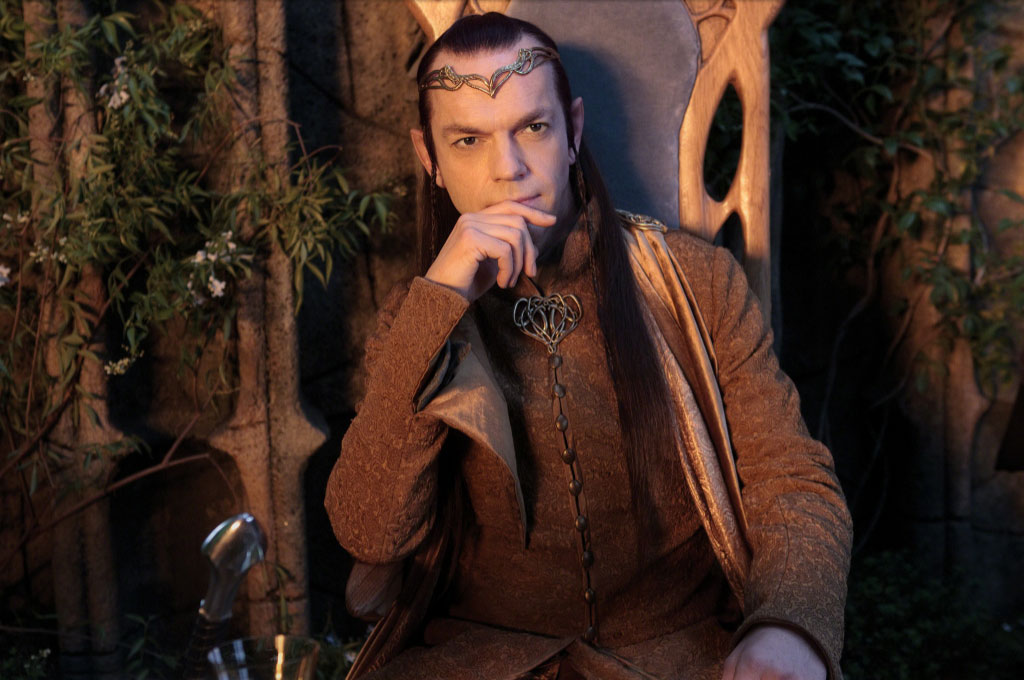 Elrond Half-Elven is a character in the fictional works of J.R.R. Tolkien's famous Lord of the Rings and The Hobbit. Elrond was Lord of Rivendell and was one of the mighty rulers of Middle Earth. In The Hobbit, he provided shelter to Thorin's men, where he became friends with Bilbo Baggins. The character of Elrond has a distinctive look, with his long, dark hair and elaborate outfits, making him a great character to portray for Halloween or Cosplay. Here we look at some ready-made pieces, as well as do it yourself ideas for creating Elrond Elf Cosplay costumes.
Lord of the Rings The Hobbit Elrond's Crown
This crown is gold in color and is a one size fits most. Made from 100% zinc alloy. Crown has the look of hammered gold and is embellished with brass enhancements for an authentic look. A must have accessory for any Elrond Elf Cosplay costume.
Adult Latex Elf Pointy Ear Tips for LARP Cosplay
These latex ears come in adult size and require no glues or adhesives, simply fit the ear tips on over your own ears for the perfect elven look. Makes a great costume accessory and is an essential piece for portraying Elrond Elf.
Men's Long Curly Dark Brown Hair Cosplay Wig
This is a long, brown wig made from 100% breathable wig network that allows for a natural feel and very comfortable wear. Wig is made from high temp fiber that can be ironed and styled with tools under 180 degrees. Wig can fit a head circumference of 21 to 23 inches and has an elastic cord inside that can be used to adjust the size for a perfect fit. Package includes one wig and one hairnet. Measures approximately 21.65 inches long. This could make a good Elrond Cosplay with if you use bobby pins to pull and hold the bangs back to expose the forehead. Pair with the Elrond crown for an authentic look.
Men's Long Curly Dark Brown Wig

Men's Medieval Renaissance Halloween Costume Boots
These boots are made from a synthetic microfiber material and have a flat sole. Available in sizes medium, large, and extra large. Boots are brown in color and have a suede like appearance. Partial side zipper makes for easy on and off. Top is folded over and has side straps and metal buttons as decoration. Use these boots as part of a do it yourself Elrond cosplay outfit.
Medieval Renaissance Halloween Costume Boots

Lord Of The Rings Adult Elven Brown Cloak
This is a standard size brown cloak made from 100% synthetic materials. Cloak has an oversized hood and ties at the neck. One size fits most teens and adults. Makes the perfect costume accessory for characters such as Elrond in LOTR and The Hobbit.
Lord Of The Rings Adult Elven Cloak

Men's Tunic Cosplay Costume for Knight
This costume includes the tunic, tabard, belts, and pants and would make a good costume for portraying Elrond Half-Elven. This item is available in various sizes and comes in both adult and children's sizes. Details about proper sizing are provided in the product description in the link below. Made from a medium weight uniform cloth that is neither too thin or too thick to provide maximum comfort during wear.
How to DIY Ideas For Elrond Cosplay
For an Elrond costume, you can find a cloak for purchase on Amazon, but other pieces you may wish to make yourself. To make a tabard, try this video: How To Make a Basic Tabard by Selina's Accessories.
This is a step-by-step video tutorial that takes you through the entire process of creating a basic tabard from scratch. You will need fabric in your color choice, scissors, thread, and some basic sewing machine skills. This is a very simple project that is good for beginners as well as more advanced sewers. Entire project takes approximately two to three hours from start to finish.
To create a basic Elrond cosplay piece, this tutorial could be used, using a heavier, sturdier fabric. To get the look of Elrond's clothing, you could use duct tape in brown, gold, black, or whatever color you wish your costume to be. Tape each side at a V shaped angle and do layer after layer, barely overlapping the previous layer, to create an authentic look. Refer to photos such as this one that show the details of his clothing for inspiration.
Riggs Workwear Men's Ranger Pant
Available in several different sizes, these 100% cotton Ripstop fabric pants make a good choice for creating your own Elrond costume. Made from heavyweight cotton, these pants have a right side hammer loop, reinforced knees, roomy side cargo pocket with flaps, and zip fly with button. Comes in six different colors, with black and dark brown making the best choices for an Elrond costume.
Altair Gauntlet With Hidden Blade
These gauntlets are made from vinyl, plastic, and polyester. They measure 14.5 inches high, 4.5 inches wide, and 2.3 inches in diameter. Brown vinyl looks like leather and covers the arm and hand, while the plastic plate covering the forearm looks like antiqued silver. Silver detailing along fingers and knuckles for an authentic look.
These gauntlets could be worn over the arms of any long sleeved type shirt with a tabard over it. The look of the silver plate on the gauntlets could easily be recreated using silver duct tape and black Sharpie marker, so that the gauntlets and outfit would match. This particular pair has a hidden blade within the gauntlet, which you wouldn't really need to use for an Elrond costume.
Lord Of The Rings Adult Legolas Costume
While there do not appear to be any ready-made full Elrond costumes available, there is a Legolas costume that will suffice. Costume fits a standard size and is multicolored in shades of maroon and olive green. Made from 100% polyester (exclusive of trim), costume includes the cloak, boot tops, tunic, and belt. Garment may be hand-washed.
Lord of the Rings – Legolas – Adult Costume

(Visited 3,731 times, 1 visits today)