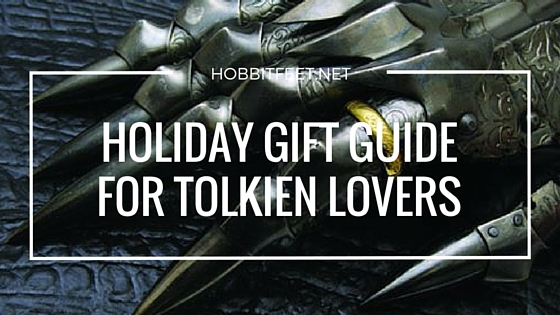 If you are shopping for a true blue Tolkien fan, then you definitely need to find a gift or gifts that are out of the ordinary. The standard merchandise that you see in every single commercial just won't do. Instead, it is the creative gifts that they will love. This list of incredible Tolkien gifts was compiled with love and care for some truly unique items for any Lord of the Rings or Hobbit fan. We hope you enjoy our holiday gift guide for Tolkien lovers.
Eye of Sauron Desk Lamp
If you think someone is looking over your shoulder, you are right. The Eye of Sauron desk lamp is shining a spotlight on you and your doings. Better watch out, and don't let the evil lord see where you are. This desk lamp is a delightful choice for any Lord of the Rings fan and shows details from the story that are sure to keep you admiring.
Elven Ear Clips
Lovely delicate earrings that go over the ear, meant for pointy elven ears. However, humans can wear them too, and they look great with holiday finery. Perfect to wear for New Year's Eve.
LOTR One Ring Beanie and Scarf
A very affordable gift, you can buy this hat and scarf separately. Great for winter and for any Tolkien fan, this message of the one ring is written in the language of Mordor.
LotR One Ring Beanie

LotR One Ring 6′ Scarf

Hobbit Map of Middle Earth
Mounted on wood, this 16 x 10 map of Middle Earth is showing the region around the Shire. Beautifully displayed, you can hang this in your home or office.
Sting Letter Opener
This letter opener comes in both the shape of Sting, Bilbo and Frodo's sword, and of Orcrist, Thorin Oakenshield's sword. It comes in this wooden collector's box for a nice gift for your boss or a friend.
Hobbit Dwarven Leather Belt
Any Hobbit fan will love this leather belt made in the style of the dwarves. Since humans are a different shape than dwarves, ThinkGeek was able to get the dwarves to make some human-sized belts. Unisex, made of leather.
Hobbit Staff of Gandalf FX Replica
As you can see in the video below, this replica of Gandalf's staff can be used to stop people from passing you by. Fight evil Orcs, or light up your pathway at night. A great addition to your Tolkien collectibles.
[youtube]https://www.youtube.com/watch?v=Hc-_fq_ATZA[/youtube]
Lord of the Rings Etched Barware
These etched glasses come in two designs, The Prancing Pony and The Green Dragon. You have a choice between a pint and a stein. These can be purchased singly or buy more than one to have enough glasses when your Hobbit friends come a-drinking. The etching will not wear off or come off; it is etched right into the glass.
Lord of the Rings Etched Bar-Ware

Hobbit Trilogy Monopoly Set
An incredible Monopoly set with the Hobbit trilogy as  a theme. Buy and sell property on Middle Earth, own some outposts and great halls, and play with Hobbit-specific game pieces.
Furry Hobbit Feet Slippers
We can't get enough of these Hobbit Feet slippers which are hilariously funny as well as comfy and warm. A perfect gift for winter that will keep everyone in your house laughing out loud.
The Art of The Lord of the Rings
A collection of Tolkien's ongoing drawings, maps and other illustrations used to help him write Lord of the Rings. Showing the development of the world and the story, most of these were not originally made for publication, but for the author's reference.
The Art of The Lord of the Rings by J.R.R. Tolkien
2016 Tolkien Calendar
Lovely illustrations of Tolkien's work adorn this 2016 wall calendar. It makes a beautiful gift for its artwork alone.
Tolkien's World: A Fantasy Coloring Book
A new unofficial adult coloring book from the world of Tolkien, this book will be released on December 15, 2015, but you can pre-order it now. Beautifully drawn illustrations that are ready to be colored in. Coloring has been touted as a stress reliever, and who can bypass these illustrations? See samples of the illustrations on the product page by clicking through.
Tolkien's World: A Fantasy Coloring Book
Tree of Gondor T-Shirt
The White Tree of Gondor is illustrated on this t-shirt available in three colors and several sizes.
Lord Of The Rings Tree Of Gondor T-shirt
Lord of the Rings Dog Tag
This very cool dog tag is unisex and has the writing from the one ring on the tag. Teens and adults alike will love this necklace.
The Lord of the Rings Symbol Dog Tag
"Black Riders" Limited Edition Giclee by Greg Hildebrandt
This limited edition giclee print by Greg Hildebrandt features the Black Riders or Morgul from the Lord of the Rings. This comes signed by the artist with a certificate of authenticity. Allow about one week for delivery. 34″ x 23.5″ (with border), 30″ x 19.5″ (image)
"Black Riders" Limited Edition Giclee
"Not All Who Wander Are Lost" Coffee Mug
This ceramic mug comes in a few different styles, featuring this quote from the Lord of the Rings. An affordable gift perfect for your teacher, best friend or fellow coffee drinker.
"Not All Who Wander Are Lost" Mug
Magnetic Ceramic Salt and Pepper Shaker Set, Gandalf and Saruman
This salt and pepper shaker set is a hoot, featuring Saruman and Gandalf with their staffs. They are magnetic so that they will stay together and stick to each other.
Magnetic Ceramic Salt and Pepper Shaker Set, Gandalf and Saruman
My Precious Coffee Mugs
These two mugs feature Gollum's "My Precious" quote from The Lord of the Rings. Select the travel mug or the ceramic mug for your favorite Tolkien fan. Great for an office party or as a stocking stuffer.
My Precious Travel Tumbler
My Precious Ceramic Coffee Mug
Lord of the Rings for Playstation 2
This game was released in 2002, but it is still a great gift for any Tolkien fan who owns a Playstation. This game follows Frodo and the Fellowship of the Ring on their journey, but does deviate from the story somewhat. You can read a full description on the product page.
Lord of the Rings: Fellowship of the Ring – PlayStation 2
Adorable Hobbit Door Pendant Necklace
This adorable necklace is a locket style. The door opens up and you can keep something inside. The necklace is very cheap, and a good gift for a child or teen. Comes with a 20 inch chain. Base metal.
Gauntlet and Helmet of Sauron
Both of these items are collectibles made by United Cutlery and they are simply stunning. Perfect for any serious collector of movie memorabilia, teacher of Tolkien or Lord of the Rings fan. Both come with a certificate of authenticity. Click through for measurements and details.
United Cutlery UC3065 'The Lord of the Rings' Gauntlet of Sauron
United Cutlery UC2941 Lord of the Rings Helm of Sauron with Stand
Hollow Book Safe (The Hobbit 75th Anniversary)
If you need a secret spot for your special treasures, this hollow book safe is perfect for the job. Handcrafted, made from wood, it looks just like a book. Click through for other versions of this book safe.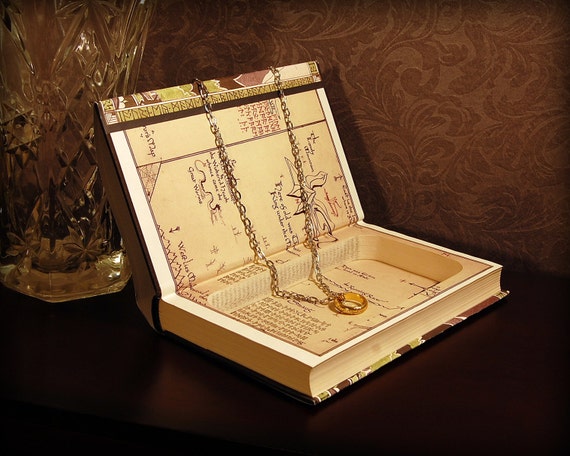 Hollow Book Safe (The Hobbit 75th Anniversary)

The Battle of the Five Armies Tauriel Cosplay Costume
A full cosplay costume for Tauriel's character from the Hobbit movies, this costume comes in a wide range of sizes. You can see all of the measurements for sizes on the product page. Made from pleather and velvet.
Lord of the Rings Compass Necklace
Available in a bronze or silver-tone finish, this lovely compass necklace is perfect for the traveler on your site, or anyone who would appreciate its significance. Inspired by The Lord of the Rings, this necklace does ship from the United Kingdom so allow for time.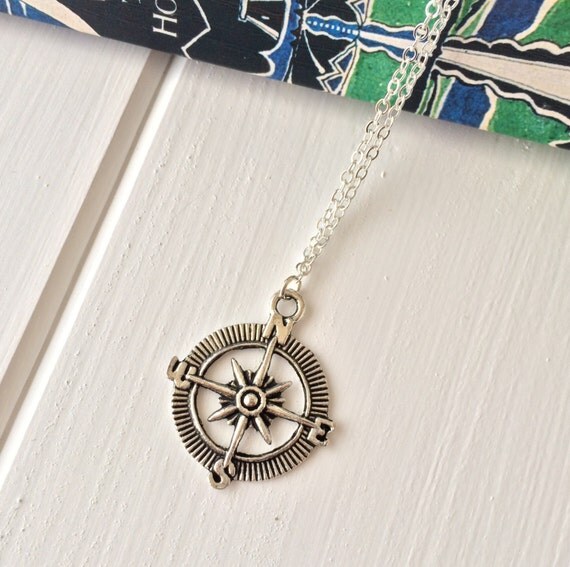 Lord of the Rings Compass Necklace

Key To Erebor Pendant Necklace
In case you need to get into the dwarven kingdom, this key to Erebor is good to have on hand. You can wear it alone or string other treasures from the key. Comes with gift packaging. This artist has several LOTR items in their shop.
Thranduil Costume The Hobbit Cosplay
A beautiful cosplay costume for Thranduil's character, this item ships from Italy. Simply stunning. Query the artist for any questions regarding fit or sizing.
The Hobbit Cloak in Moss Green w/Celtic Hook
This darling Hobbit cloak for children is made to order and just so freaking cute! Allow at least two weeks for it to be made. Available in a wide range of sizes from infant to youth.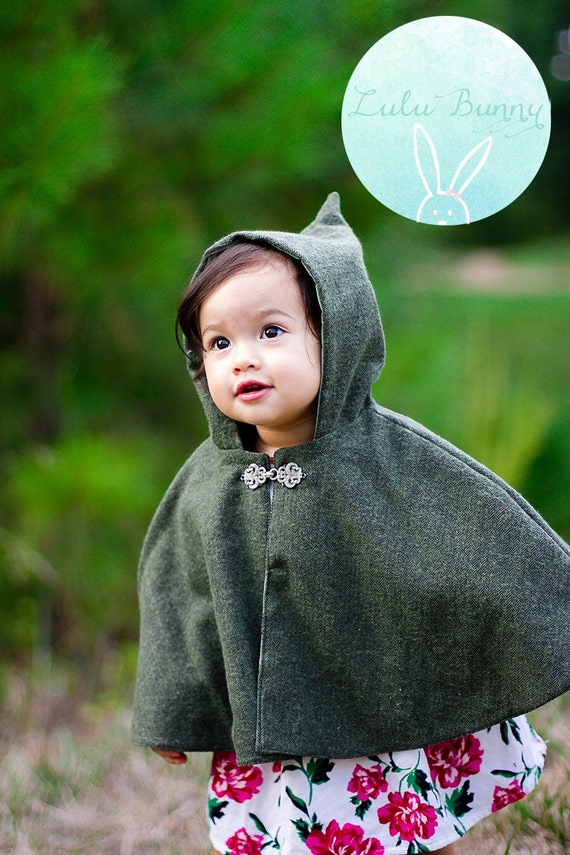 The Hobbit Cloak in Moss Green w/Celtic Hook

Hobbit Cloak
These adult cloaks are only one of many that this artist makes. You can also get them with optional embroidery on the trim. This particular cloak is listed in brown and green but the artist can make them in other colors. Great for cosplay or just for wearing.
The Hobbit – Elrond Cosplay Costume
This Elrond cosplay costume comes from Malaysia and takes 28 days to make. You might get it before Christmas, but even if not, it is a wonderful costume for your next con. The product page lists the measurements you need to take, and you can get this sooner for a rush fee. Contact the artist for more information.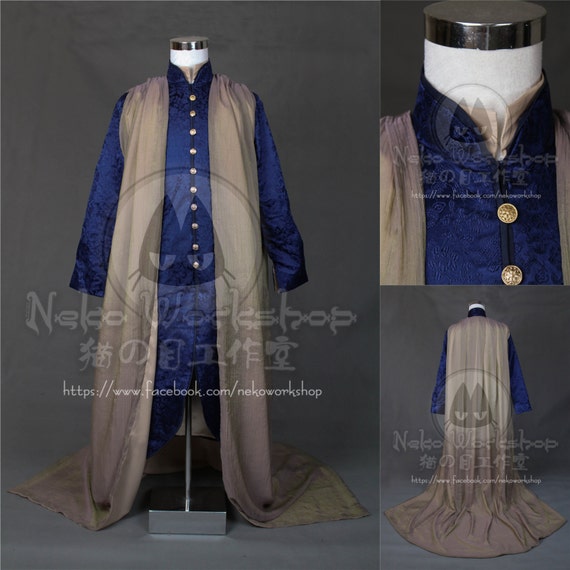 The Hobbit: An Unexpected Journey – Elrond Cosplay Costume

Gandalf the Grey Cloak
Made in Idaho, this Gandalf the Grey cloak comes in a few options including length and style. You can order a Hobbiton style or Moria style. Full descriptions of both styles are listed on the product page. Beautiful work for a reasonable price. Shipping is a week to 10 days but you may need to allow for extra time during the holiday season.
Hobbit Door Necklace
This is another Hobbit door necklace, but I love the map of the Shire inside the locket. Very lovely. Ships from United Kingdom, but very affordable.
Even the Smallest Person Quote Printable
For only $5.00, you can print this out at home and put it on your wall. To make it even more special, buy a frame and give it to a friend. One of the best quotes from The Lord of the Rings. This artist has a lot of printables from LOTR.
60th Anniversary Wood Clock
Gorgeous wood clock with the one ring script in the center panel and the numbers in Elvish. Even if you can't read it, it is simply stunning. Ships from Madrid. This artist has several clocks from various fantasy themes, and they are all very cool.
Ring of Power Stoneware Mug
Lovely large stoneware mugs featuring Lord of the Rings images, this mug has the one ring script on it. These are hand-glazed mugs and very nicely done.
Handpainted Tree of Gondor Mug
This mug is hand-thrown and then painted to get the intricate design of the tree of Gondor.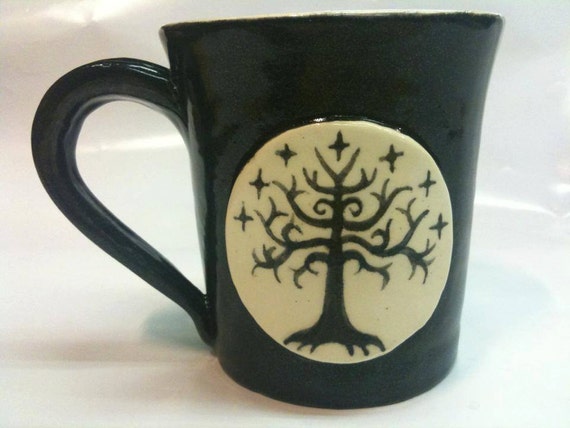 Handpainted Tree of Gondor Mug

Wooden Hobbit Hole Playhouse Kit
This wooden playhouse kit is made in Maine and ships throughout the contiguous United States. There are many options on the kit which you can discuss with the designer. Each kit is custom made for your order.
Hobbit Meals Print
This is not a printable, but an actual print that will be mailed to you. It lists the Hobbit mealtimes in order so you won't miss any of your meals if you are not in the Shire. You can also find many other Tolkien prints in this store.
Gandalf Bust
This is a stunning cast resin bust of Gandalf which can be painted to your specifications. It is very affordable but ships from Poland, so allow for shipping time. Beautifully crafted.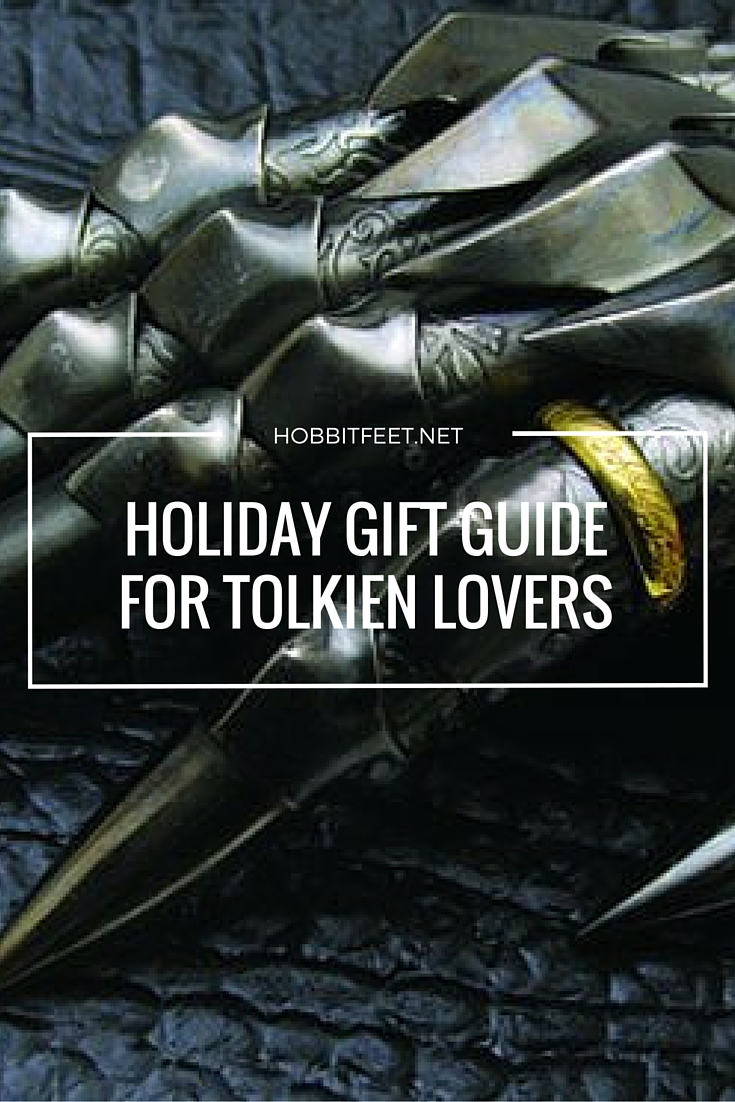 This post is part of the Pinterest Party Holiday Blog Hop. The Pinterest Party is a group of people who collaborate and share in order to grow their Pinterest following.
November
14. Personalized Handmade Christmas Gift Guide
15. Corrinna Johnson Snowman Decorating Ideas for Christmas
16. Kristen Carrasco  Gluten Free Biscochitos
17. Dianne Kirby Loomos  Christmas Themed Throw Pillows
18. Steampunk Fan's Holiday Gift Guide
19. Corrinna Johnson Best Friend Gift Ideas for Teens
20. Dianne Kirby Loomos  Mickey Mouse Ears Hat Ornaments
21. Holiday Gift Guide for Tolkien Lovers (that's this page!)
(Visited 9,731 times, 1 visits today)