The character of Legolas is a favorite among many fans of J.R.R. Tolkien's legendary Lord of the Rings trilogy. Legolas is a Sindar Elf and one of the nine members of the Fellowship of the Ring. It's no surprise that many people like to dress up as Legolas for Halloween, cosplay or any events related to the books and movies. Here we look at some ready-made Legolas costumes available through various sellers, as well as providing some tips for creating your own Legolas costume.
Men's Adult Legolas Costume
This Legolas costume consists of a cloak, tunic, belt, and boot tops. Garment is made from 100% polyester, exclusive of trim, and can be hand washed. Available in a standard size. Cape is a dark burgundy color, while tunic is a grayish-black color with burgundy near the top. Belt and boot covers are black. Combine with a blond wig for the perfect Legolas look.
Men's Deluxe Legolas Costume
This costume is made from 100% synthetic fabric and is available in sizes medium, large, and extra large. May be hand washed. This is the deluxe Legolas Woodland Elf armor costume as seen in the second Hobbit movie. Tunic has molded armor pieces. Costume also includes pants and boot tops. Tunic is done in shades of green, with the molded armor pieces on the breast plate, arms, and shoulders being a greenish-gold tone. Both pants and boot covers and somewhat of a gray-green color.
Deluxe Legolas Child Costume
This Legolas costume for children comes in sizes small, medium, and large and includes a faux suede tunic with molded armor pieces made of foam on the sleeves and chest along with a pair of boot covers. Made from 100% polyester fabric, with armor pieces being made from 100% polyurethane foam. The foam boot tops have an elastic band that fits underneath the shoe or boot. The costume fastens with Velcro at the back of the neck for easy on and off.
Kids' Legolas Costume
This child's Legolas costume is made from 100% polyester and includes the tunic, cloak, belt, and boot tops. Available in sizes small,medium, and large. Tunic is black with a burgundy lace up front and portion of the shoulders. Belt and boot covers are black and the cape is burgundy in color. Combine with a blond Legolas wig and sword for the perfect Halloween or Cosplay look.
Child Legolas Costume
Available in sizes small, medium, and large, this costume is of one color and includes the shirt, pants, and boot tops. All items are black in color, with the areas that would have the armor being printed in a silver-gray on the fabric.
Latex Elf Fairy Ears
As part of a do-it-yourself Legolas Costume, these elf ears add the perfect touch. They fit right over your ear and one size fits most ears.
LOTR Legolas Wig
This is a one-size wig made from 100% synthetic fibers. May be hand washed. This wig has Legolas' straight blond hair and will fit most children and adults. Perfect addition to any ready made Legolas costume or as part of a DIY costume.
Accessory Bow and Arrow
This set includes the bow, arrows and quiver and is a lightweight accessory for any Legolas costume. Made from synthetic materials.
Legolas Long Blade Sword
This sword is a replica of the sword used by Legolas in the movie. Sword has a gold colored handle and a silver toned blade. Make a great accessory.
Legolas Long Blade Costume Accessory
LOTR Legolas Costume Kit
This is a child size set that includes a hooded cloak, quiver, bow, arrows, and gauntlets. Ideal for children ages 12 and under. Combine with a Legolas wig for a terrific costume.
LOTR Legolas Outfit for Cosplay Custom Order
This Etsy seller offers a custom-made Legolas costume that includes a long sleeved gray tunic made from cotton or broadcloth, and an unlined cape made from gray fleece or flannel that comes to the knee. The vest capelet has a leaf pattern with hand painted scroll swirls in subtle sage green to look authentic and blend in with the outfit. This is a very detailed outfit that the designer has taken a lot of time and effort with to ensure it looks very true to the outfit Legolas wore in the movie.
Leaf Clasp
The green leaf clasp pin makes the perfect accent piece for any Legolas costume and adds that finishing detail.
Legolas Leather Armor
This Etsy seller offers handmade "armor" made from leather. This is a custom order and requires some time for item to be produced and shipped from Italy. While a bit pricey, this would make a great addition for any serious cosplay participant.
Do-It-Yourself Legolas Costume
With a blond Legolas wig and some elf ears (both listed above) you could create a Legolas costume from some earth toned clothing fairly easily. This military green tee could be ordered in a much bigger size and trimmed at each side to come down to a "V" shaped point to resemble Legolas' tunic.
Mens Premium Fitted Long-Sleeve Crew
Pair with a pair of black or olive drab jeans.
The costume could be tweaked by adding pieces of brown felt to create the breastplate area and shoulder areas on Legolas' tunic. Felt could also be used to create simple boot cover, with Velcro used to attach them.
Add a cape for a great look.
How to Make a Legolas Costume Part 1: Bracers and Jerkin
This video gives a step by step tutorial on how to create the bracers and jerkin for a Legolas costume. This is part one of a three part series, four if you desire the optional cloak. Links to the related tutorials are shown on the informational section of this video. This project requires basic sewing skills.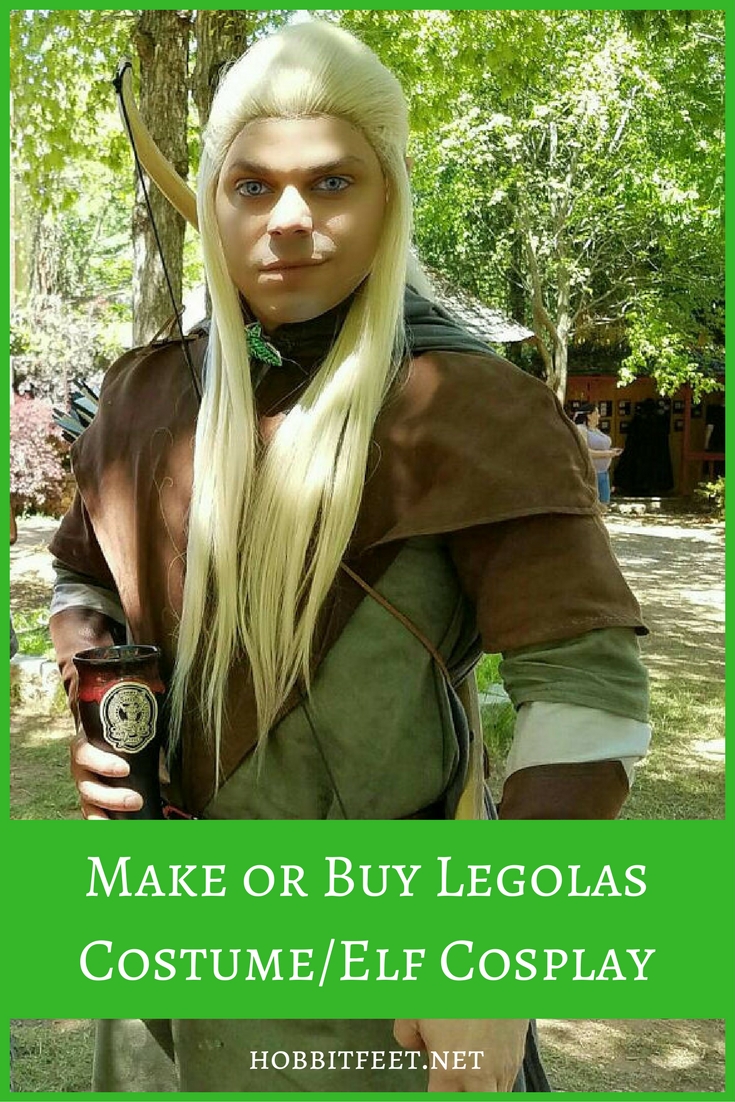 (Visited 5,077 times, 1 visits today)