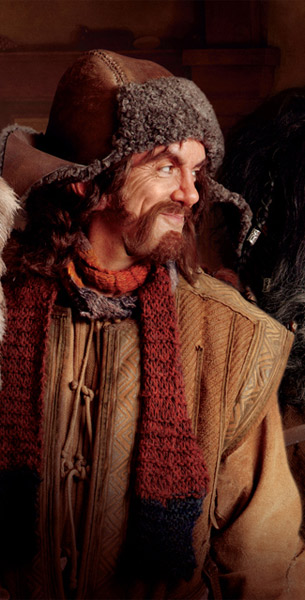 Bofur is a popular fictional dwarf character from J.R.R. Tolkien's literary classic, The Hobbit. Bofur the dwarf also appears in the popular films based off of the fantasy novel. Bofur was one of the thirteen dwarves who lived in the region of the Blue Mountains who journeyed with Thorin's company. He participated in traveling to Erebor to challenge Smaug the evil dragon.
Bofur is the brother of Bombur the dwarf and a cousin of Bifur. Bofur's character has a scene where he plays the clarinet when Thorin requests music. This character has a fairly memorable look, thanks in part to his mustache and rather wild looking hairstyle, as well as his unique cap. Bofur makes a great character to dress up as for Cosplay or Halloween. Since only the hat is readily available, the rest of the costume must be pieced together bit by bit. Here are some helpful and creative ideas in putting together your own Bofur the dwarf costume.
Bofur Hat
This is a one size fits most hat made from polyester fabric. It is dark brown in color and has flaps that stick out on each side. Flaps have wire strung through them to maintain their shape, giving the wearer that distinct Bofur look. Front part of hat flips up to reveal what resembles gray lamb's wool (not actual wool). Hat may be hand washed when needed. Great for anyone who is a fan of The Hobbit and Bofur. Can not only be worn for dress up fun, this can actually serve as a nice warm hat for winter too.
Men's Viking Wig Beard And Mustache
This is a brown wig, mustache, and beard combination that comes in a standard size. Does not include wig cap. Beard is divided in half with both halves braided and hair has the messy Bofur the dwarf look. Pair with the Bofur hat for a great look right out of The Hobbit.
Viking Wig and Facial Hair Combo

Mahmoud Cotton Men's Kurta
This comfortable dark brown kurta comes in sizes small through XXX large. Garment is made from 100% cotton poplin of medium weight. Can be machine washed in cold water and air dried, use no heat. Has a standard collar and buttons in front from neck to chest. To use as part of a Bofur costume, gather several inches up and either tie at waist or tuck into a belt. You will have other layers over this, this is just the foundation garment.
Star Wars Jedi Master Fleece Bathrobe
This 100% polyester fleece bath robe can be used to create Bofur's vest. The sleeves will need to be cut off and possible several inches off the bottom, to make the vest slightly shorter than the shirt worn under it. Make sure to save the pieces you cut off, as you will use them to create accents on the costume. Even better than cutting up a new robe, visit the local thrift shop to see if you can find an old jacket or coat in earth tone colors that might be used for this purpose. With the fabric from the sleeves, cut along the seams and use the fabric to make the large, wide cuffs on Bofur's shirt (one you've found on your own , or the suggested Kurta mentioned above). Place them at the cuff of the shirt so that about eight inches of fabric shows on the sleeves. Refer to images of the character of Bofur the dwarf while constructing.
Star Wars Jedi Master Fleece Bathrobe

The Hobbit "Bofur" Gloves
Bofur is known to wear fingerless gray gloves as part of his outfit. This is a simple knitting pattern to create a replica of his gloves in the films. Pattern is available as a free download and could be adjusted to fit a larger male hand. Gray yarn is needed for this project, along with size US 8 knitting needles.
If you're not the knitting type or don't have someone who could make these for you, you could also use basic gray gloves and cut the fingers off of them. Or, choose a pair of men's fingerless gloves like these Charcoal Gray Pure 100% Cashmere Fingerless Half Finger Wrist Gloves by Feeling Pampered
Charcoal Gray Half Finger Wrist Gloves

The Hobbit- Bofur Scarf Knitting Pattern
Bofur wears a gray and rust colored scarf wrapped around his neck. There is a knitting pattern found online that can be used to create a replica of this scarf. Basically, it is an alternating gray block, followed by a rust colored block. The pattern is done using 8mm needles and bluish, gray, and copper colored wool yarns.
If you choose to just make the scarf on your own, or have someone make it, it could easily be done by knitting in basic garter stitch with acrylic yarns. Just knit several inches of gray, followed by equal number of rows of rust, and repeat until your scarf is the desired length.
Multi-Purpose Detachable Tactical Fanny Pack
This fanny pack will act as both the belt and pouch for a great Bofur costume. Includes detachable smartphone case, water bottle pouch, two accessory pouches, and main fanny pack. When playing Bofur, simply detach all cases except the main pouch. Adjustable to fit up to a 51 inch waist. Makes a very handy accessory when not in costume too!
Multi-Purpose Tactical Fanny Pack

Men's Sanded Duck Carpenter Jean
These pants in the color Timber work well for a Bofur the dwarf costume. Made from 100% cotton with hook and eye closure, hammer loop, tool pockets, and utility loop. Great pants to wear when not in costume also.
Men's Sanded Duck Carpenter Jean

Men's Front Lace Knee High Boot
These boots are leather with rubber sole and measure 18.75 inches from arch. Features cushioned insole with fringed leather collar. To make a more authentic Bofur look, some faux fur fabric could be purchased to place around the cuff of the boot. Use Velcro on opposites sides of the faux fur to attach it without harming the boots at all. Make the fur cuff about 8 inches wide. Here is a good example of the type of faux fur to use.
Front Lace Knee High Boot

Faux Fur Mongolian Caramel

Grave Robber Pick Axe
Made from plastic, this 26 inch long pick axe makes the perfect accessory prop for a Bofur the dwarf costume. Burnished gold color for an authentic look.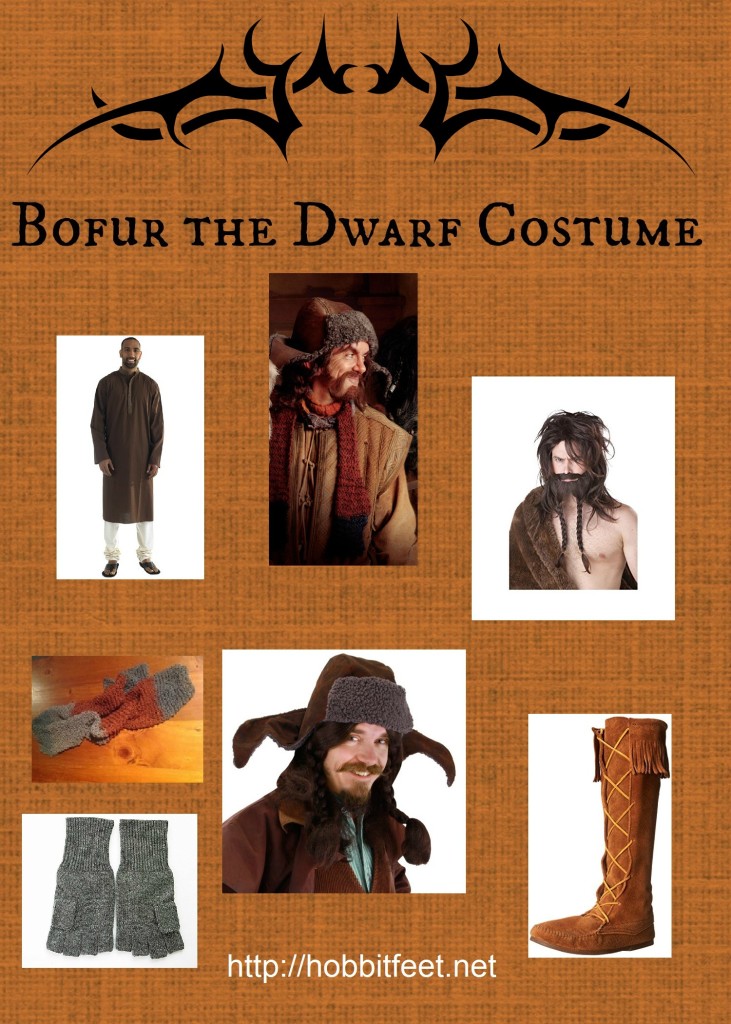 (Visited 2,000 times, 1 visits today)