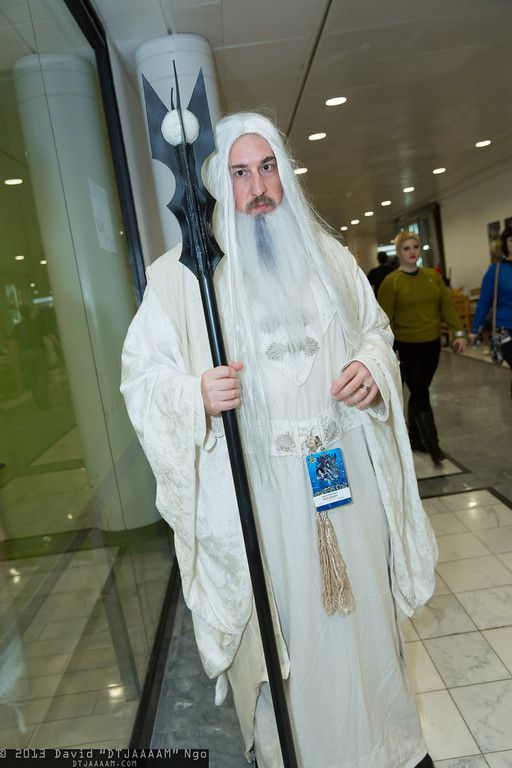 Saruman is a character is J.R.R. Tolkien's fictional work, The Lord of the Rings. Also referred to as Saruman the White, he was the leader of the Istari, a group of wizards sent to Middle Earth to challenge Sauron. As time passes, Saruman becomes envious of Sauron's power and wishes to have it for himself. While Saruman represents how power can corrupt and eventually lead to a fall, he is still a fun character to portray. Here we look as some Saruman white wizard cosplay costume ideas that are perfect for Halloween or other LOTR dress up occasions. Below you'll find both ready-made and do-it-yourself white wizard costumes.
Saruman Wig and Beard Set
A long, white beard is an essential part of Saruman's trademark look. This beard works great for any Saruman, Gandalf, Dumbledore, or other white wizard costumes. Full wig includes eyebrows, hair, mustache, and beard, all in white.
White Wizard Costume
This white wizard costume includes the wig and beard combination, along with a long white robe that is a one size fits most adults. Made from 100% polyester, garment may be hand washed in cold water. Make the perfect Saruman white wizard Cosplay costume or Halloween costume. Add a staff to complete the look.
White Velvet Wizard Robe LARP LOTR
This costume is available in sizes ranging from small to XXXXXX Large. The floor length white robe is perfect for many different Cosplay characters, including Saruman, Game of Thrones, and other white wizards. Garment is white velvet on the outside and is lined with white satin on the inside. Cloak features a hood and wide bell sleeves.
Unisex Hooded Cloak for Role Play
This cloak can be ordered in various lengths ranging from 80cm to 170cm. A wide choice of color options are also available, but for creating a Saruman costume, the Metal Silver color is the one that will work. Cape is hooded and is a shiny silver color that almost appears as white. Great for cosplay roles and other dress up occasions and events.
Hooded Cloak Role Play Costume

32″ Pure White Straight Hair Cosplay Wig W/Wig Cap & Comb
This is a 32 inch long, straight, pure white wig that comes with a wig cap and comb. The size should fit most people's head and the hooks inside the cap can be adjusted for the perfect fit. Wig is brand new and made from 100% high quality, heat resistant Japanese Kanekalon fiber materials. Wig may be washed gently in a bit of mild shampoo in cold water, but should never be exposed to high heat from a hair dryer or other styling tool. Combine wig with a white beard and mustache combination for a great Saruman look.
Druid Ritual Robe, Wizard Wear
This is a handmade garment in a men's size large that is made from pure white cotton fabric. Made in Somerset of a medium weight fabric that is free size and will fit chest sizes up to 50 inches. Hemmed at approximately 60 inches. Robe is constructed with a simple A line design with a key hole neckline that is fully faces and finished with a hemp loop and metal button to create a design that looks like a sunburst. Design of garment allows for free range of movement. Perfect robe for a Druid Ritual Robe, for a Mage or Wiccan, or for Cosplay roles such as Saruman from LOTR.
Hooded White Ritual Magic Robe
This robe is available in sizes small, medium, and large and is made from a 60% cotton material that is easy to launder and iron and that also has water and dirt repellant properties. A link is shown for how to take your measurements. Your height, chest size, width between shoulders, and sleeve length should be specified when ordering. The white color is perfect for creating a Saruman white wizard Cosplay outfit.
Medieval Celtic Viking Wizard Hooded Surcoat
This is a handmade item constructed from linen material. Features a hood and is available in sizes small through extra large. While garment is sleeveless and not quite floor length, it could work as a Saruman costume if combined with a long sleeved white shirt and white pants. Other colors are also available.
Make Saruman's Staff from Lord of the Rings
Any true Lord of the Rings fan knows a Saruman costume wouldn't be complete without his trusty staff. The artist begins by heating a product called InstaMorph to create the globe for the staff. He then molds the heated product into a round ball. He also demonstrates another way to create the globe using a polymer clay wrapped around a ball of aluminum foil. There is also a link for the template that can be used to create the other pieces of the staff. You will need either foam board or cardboard, an exacto knife, hot glue and glue gun to complete this project. Video take you through the entire step by step tutorial that is narrated as the artist goes along.You will also need large wooden dowels for this project and some black paint. Seal your finished project to project the paint and make your staff look its best.
Authentic Looking Saruman Robes for Serious LOTR Cosplay
This is a handmade, made to order item for the ultimate Cosplay fan. The costume consists of three pieces: a white undershirt similar to a plain, tighter fitting peasant style shirt, the under robe with a long slit down the fronts closed by custom made closures over a white silk brocade fabric, and the outer robe which is sleeveless and has decorated brocade ribbon down the front. Made from 100% polyester fabric with a white linen look to it. Belt is made to fit your waist and includes details that make it almost identical to the belt in the movie. Allow three to five months for production.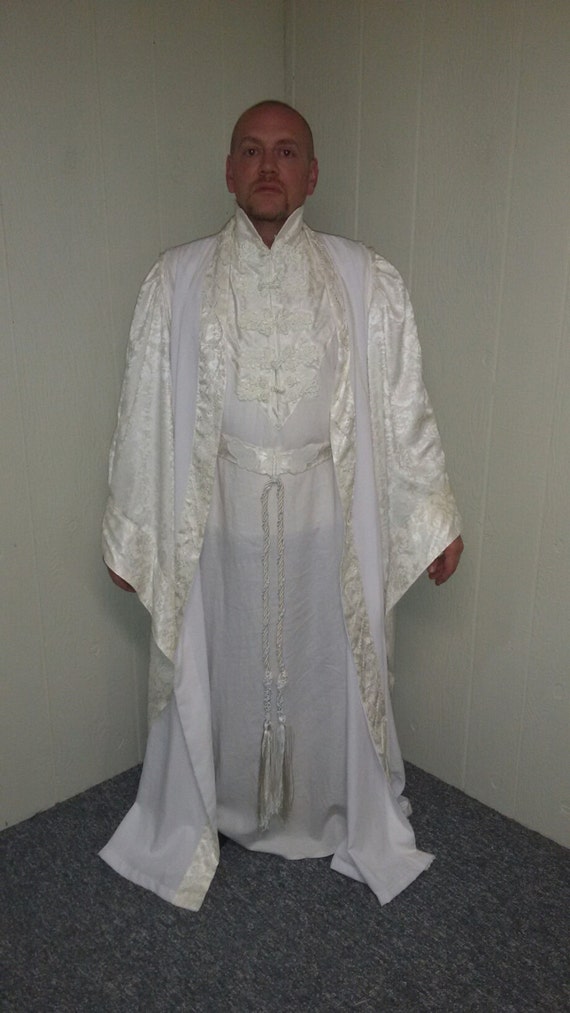 Authentic Looking Saruman Robes

Pin This to Save It for Later
(Visited 5,077 times, 1 visits today)