Aragorn is a fictional character created by J.R.R. Tolkien in his famous Lord of the Rings books from which the movies were based. Originally introduced to us in the books by the name of Strider, Aragorn is a Ranger of the North. The Rangers of the North were men who were skilled in using weapons such as swords, bows, and spears, who patrolled the boundaries of Eriador. The Rangers wore helmets, carried shields and rode on horseback. As the Lord of the Rings stories progress, we eventually discover that Aragorn is the heir of Isildur and has claim to the thrones of Arnor and Gondor. Aragorn is eventually crowned as king in the third installment of the book and film series. As one of the leading characters in this highly action packed series, it's no wonder that Aragorn is a popular choice for both men and boys when it comes to choosing a character to portray for Cosplay or Halloween fun. Here we take a look at how you can create the perfect Aragorn Ranger Costume Cosplay.
Child's Aragorn Costume
This child's ranger costume is available in sizes small, medium, and large and is an officially licensed Lord of the Rings product. The costume includes the tunic, cloak, belt, and boot tops to fit over the child's shoes. Colors in the costume range from dark browns to dark greens. Pair the pieces of this costume together with some olive green or dark brown leggings (which you may have to purchase in the girls' department at any local clothing retailer) for the perfect Aragorn costume. You might also use little boys sweat pants for this purpose.
Men's/Child's Aragorn Sword
This is a 100% synthetic lightweight costume accessory that compliments any Aragorn costume perfectly. Sword is silver with silver and black handle and is modeled after the sword of Aragorn as seen in The Lord of the Rings movies. Makes a great finishing touch for Cosplay and Halloween costumes for both big and little Aragorn portrayers.
Lord of the Rings Aragorn Costume
This is a 100% polyester LOTD Aragorn costume that comes in one standard size that fits up to a 34 inch waist and a 44 inch chest. Costume includes dark brown tunic, gray/brown cloak,brown boot tops, and belt. Pair this costume with a pair of dark brown or black pants, wig, and sword to create the perfect Aragorn costume for Halloween or Cosplay.
Medieval King Brown Wig
California Costumes Medieval King Wig

This is a one size wig that features brown, longish hair that comes down to chin length, with slight waves and a side part. Perfect accent and finishing touch to any Lord of the Rings Aragorn costume.
Deluxe Aragorn King of Gondor Adult Costume
Aragorn King Gondor

Queen Arwen Dress

If you're looking for something a little more elaborate than the usual Aragorn ranger style costume, especially for Cosplay purposes, this deluxe Aragorn King of Gondor costume is a great choice. This costume is available in an adult standard size (one size) option and includes shirt, chest piece, crown, cape, boot tops, and gauntlets. About the only things you would need to add to this costume for an authentic look would be a wig and a sword as an accessory. Shirt is long and of purple and red colors, cape is black with silver trim, and the chest piece, gauntlets, and boot tops are brown with gold accents and look like a faux leather. Crown is golden color. This realistic looking costume is especially nice when used as a couple's costume paired with a women wearing a lovely Queen Arwen costume dress.
Aragorn Cosplay Costume Inspiration
[youtube]https://www.youtube.com/watch?v=RDyqyeJPbKg[/youtube]
In this video, a young man explains how he used everything from leather from old suitcases, to old blankets he bought at the Salvation Army, to create his own Aragorn Cosplay costume piece by piece. He briefly explains how he went about finding the materials for each piece and then how proceeded to make them. This video provides a lot of inspiration and will certainly spark your creativity when it comes to finding materials for an making your own Aragorn Cosplay ranger costume.
DIY Aragorn Costume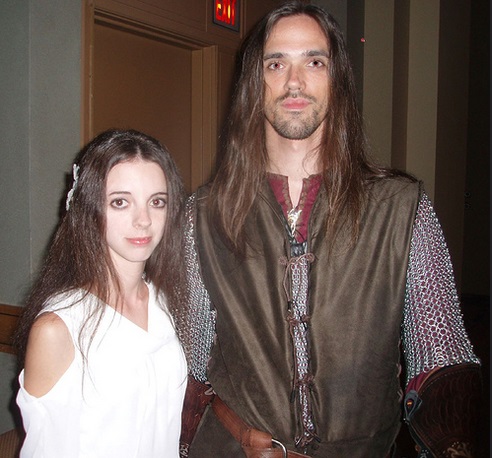 You can create your own Aragorn ranger costume fairly easily using simple materials. For all pieces, first hit your local thrift stores to see what you can find that might make a great cape, tunic, belt, pants, shirt, or boots. Stick with dark browns and dark olive green tones is possible. Even items such as fabric tablecloths, blankets, or sheets can provide you with the fabric you need at a low cost.
For the tunic, if you can find an extra long dark brown tee shirt, this will work . Simply cut off the sleeves and cut the front of the shirt in half so that it opens. Poke a few holes on each side of the fabric from the neck to about halfway down the shirt front. Then lace these holes together using a long brow shoestring or yarn, stringing from bottom towards the top.
If unable to locate a long enough tee shirt this color, simply use plain brown fabric. You can make a super easy one piece tunic top by cutting a piece of fabric, leaving a solid section for the back, and folding fabric over to create each side so that they meet in the middle in the front. Sew the shoulder areas together, and a few inches down each side, cut semi circles which will become arm holes. You can play around with the cutting and shaping to gain a better fit, but this will be covered by the cape anyway, so you can keep it simple. Create the holes and add the lacing as described above. This shirt could be used to create a child sized tunic, simply cut off sleeves and down center of shirt.
Any large piece of fabric from any source can be used to create the cape. Sew strips of fabric or felt to the two top corner so that you can tie the cape. This brown fabric would work well and can be purchased by the yard.
Simple sweat pants or leggings can be used for the pants of this costume. You may be able to use some you already have if they are brown, black, or olive green.
This simple green V-Neck shirt can be worn under the tunic for an authentic look. Any other shirt of similar color and style could also be worn. Again, check thrift stores before buying anything new to save some money.
To create boot covers for your Aragorn costume, you can use this faux leather fabric to create the boot and cuff portions. Fabric is a chocolate color and is sold by the yard. You can cut the pieces to fit around the leg and secure with Velcro closures in back. Create a top part that looks like a cuff and super glue them on (supervise children with this or have an adult do this). Wear over brown shoes or short boots to create an authentic ranger look.
Accessorize your homemade costume with a brown Aragorn style wig and sword, mentioned in the above product listings. Now you are ready for Halloween , dress up, or Cosplay.
 Adult Elven Cloak

 Leaf Clasp

 Aragorn Accessory Kit

 King Helmet

 Arwen Necklace

(Visited 20,523 times, 4 visits today)