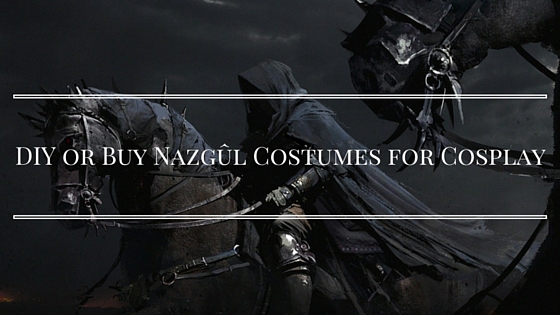 Updated for 2017
The Nazgûl , also called the Ring Wraiths, are characters from J.R.R. Tolkien's Lord of the Rings books and films. They are referred to as the evil Sauron's most terrible servants, but were originally nine men who succumbed to the power of Sauron. After this, they attained near immortality and took on the form of wraiths. The Nazgûl were led by their leader, known as the Black Captain or the Witch King of Angmar. Any character from the LOTR trilogy makes a great costume idea for either Halloween or Cosplay. Here we look at some ready-made as well as do-it-yourself ideas for dressing in Nazgûl Costumes for Cosplay.
Deluxe Witch King Costume
Dress up for Cosplay as the Black Captain himself in this deluxe Witch King costume. Available in an adult standard size, this costume is made from 100% polyester and includes a layered black robe with a tattered appearance, a scary Witch King latex mask, matching latex gauntlet gloves, and show covers. Robe is black in color while the gloves and mask have a dark silvery-gray color. This is the perfect costume to wear while doing Lord Sauron's dirty work, or simply having Halloween or Cosplay fun.
Witch King Mask
The Witch King mask may be purchased separately as well as being included as part of the deluxe costume. This is great for those who opt to come up with their own version of a Ring Wraith costume, possibly even making a do it yourself version. Mask is made to look like the Witch King of Angmar's helmet and is silver with distressed detailing to make it look as if it has been worn during battle. Made from latex, mask has eye and mouth openings that are covered in black mesh.
Lord of the Rings Ring Wraith Costume
This costume comes in a one size option and is black in color. Made from 100% polyester fabric, garment is hand washable. Costume includes a hooded robe with mesh face and attached belt and drape. Robe has the tattered and torn appearance just like in the films. Combine this costume with a ring wraith sword for the perfect look.
Lord of the Rings Child's Ring Wraith Costume
Child sized ring wraith costumes are available in sizes small, medium, and large. Costume features a black, tattered looking hooded robe with a mesh face and an attached belt. Combine costume with black pants, shoes, and gloves for the perfect ring wraith look.
Lord of The Rings Child's Ringwraith Costume
Ring Wraith Sword
This sword is around 45 inches long and is made from a hard plastic. Handle is black while sword section is a metallic looking color. Makes the perfect accessory or prop for Halloween or Cosplay fun.
Ringwraith Sword – Lord of the Rings
Black Hooded Robe – 56″ Long
To make your own do it yourself ring wraiths costume, you could use this black hooded robe and cut strips along the bottom and the sleeves to give it that tattered appearance. This is a black hooded robe made from 100% polyester . It is 56 inches long and will fit most adults. Open sides provide comfort and style. Makes a great costume base for the Grim Reaper, Scream, or Lord of the Rings Ring Wraith costume. Robe is also offered in a 40 in length for children.
Child's Black Hidden Face-Mask Hood
This is an over-the-head black, stretchy polyester hood that has a black mesh which covers the face. One size fits most children. Makes a great part of a Ring Wraith costume when combined with a black hooded robe. Wearer can see out but people cannot see the wearer's face.
Child Black Hidden Face Mask Hood
Make the Ringwraith Sword from Lord of the Rings
This is a video tutorial that show viewers how to make an authentic looking sword out of foam board of cardboard. The artist uses the foam board to construct a diamond shape that makes the sword much stronger. The artist first shows us how he sketches the design and a template is provided that can be downloaded. He construct the sword using overlapping pieces of foam board for added strength. Step by step tutorial explains in detail how to create this project. An exacto knife, sandpaper, masking tape, hot glue, hot glue gun, and paint are other supplies that are needed. Makes the perfect accessory for a ring wraith costume.
[youtube]https://www.youtube.com/watch?v=doHzNxNKDrY[/youtube]
Make the Witch King Helmet from Lord of the Rings
This video shows us how to make the Nazgul Witch King helmet using simple materials such as cardboard, sandpaper, black, brown, green, silver, and metallic paint, newspaper, cereal boxes, and paper mache. A downloadable template for the project is included in a link with the video. Using a foam head as you construct the project is also helpful in fitting the helmet together as you go along. Detailed step by step instructions make this an easy and fun project which will save a lot of money over purchasing a ready made version of the helmet.
[youtube]https://www.youtube.com/watch?v=ftrdJNQBnGI[/youtube]
Tutorial- How to Make Dead Master Gloves
This is a tutorial on how to make a pair of ring wraith gloves using the following materials :pen, paper, gloves, eraser, pencil, ruler, black paint, cutting board, crafting foam, crafting knives (small), and a hot glue gun and glue sticks. The vides shows viewers how to cut out their template and provides a link to an origami template to create the claws of the glove. You will use actual inexpensive gloves on which to glue the paper origami claws. You then cut out foam pieces and sections and glue them onto the fabric glove to create the details of the gauntlet gloves. After all pieces are glues into place, paint them with a black, gray, silver, or metallic paint for a terrific look!
[youtube]https://www.youtube.com/watch?v=vCwZWzM6gpo[/youtube]
Pair these gloves with the Witch King helmet, black hooded robe, and black mesh face mask for an authentic ring wraith look any LOTR fan will appreciate.
Pin It for Later
(Visited 28,513 times, 1 visits today)