Gandalf the Grey is a fictional character that appears in the J.R.R. Tolkien fantasy novels The Hobbit and The Lord of the Rings. Gandalf was one of five wizards sent to Middle-earth during the Third Age by the Valar. Gandalf was known for his wisdom and played a key role in defeating Sauron, the enemy. Originally clothed in a long, grey robe and tall, pointed grey hat, after his demise in Moria, the character returned robed in white and is then called Gandalf the White. Gandalf is a very popular character from The Hobbit and Lord of the Rings books and movie series, and makes a great character to dress up as for Cosplay, Halloween, or any other costumed occasion. Here are some great ideas for creating a Gandalf the Grey Cosplay Costume.
Gandalf the Grey Costume
Gandalf the Grey Child Costume
This child's Gandalf costume comes in sizes small, medium, and large, fitting most children between the ages of 8 and 10. Costumes includes the polyester grey robe, foam wizard hat, and brown belt. Beard and wig are sold separately. This costume is great for dress up fun, especially with the release of the newest movie in The Hobbit series.
Lord of the Rings Gandalf Beard/Wig Set
This is a one size fits most beard and wig set in the color white, made from 100% synthetic fiber. Items can be hand washed using a mild shampoo if needed. Beard is attached to wig. Pair this wig and beard set with the Gandalf the Grey robe and hat for a complete and authentic Gandalf look. For the best results, remove the item from package and style it before wearing it to make it look its best. Perfect for Halloween, Cosplay, or for dress up when playing out your favorite scenes from the movies.
Velvet Wizard Robe with Satin Lined Hood and Sleeves
This long hooded robe is perfect for the adult who wishes to portray Gandalf the Grey. The robe measures 50 inches long from the nape of the neck to the bottom hem and has a front tie closure. May be worn by either a male or female and fits adult sizes small through 4X large. Robe is made from polyester velvet and has silver grey lining. Pair with a hat and beard/wig combination for a perfect Gandalf look. This cloak comes in several colors.
Gandalf Beard Kit
This beard is slightly different that the above mentioned style, having more of a silver-grey tone than pure white. Made from 100% polyester, beard can be hand washed when needed. To get the best look, remove wig before wearing and style and spritz with hair product to hold in place. Combine this beard and wig kit with grey robe, hat, and accessories for a great character costume. This is an officially licensed product from The Hobbit movies.
Staff of Wizard Gandalf
An authentic looking staff made from hand painted polyresin reinforced with steel, this staff measures 73 inches long. Staff comes with an Elven styled wall display that features Gandalf's "G" rune. This is the perfect Gandalf accessory for anyone who takes their character play seriously or for the true The Hobbit and The Lord Of The Rings fan. Use to display in the home or for costumed occasions and Cosplay.
Staff of Wizard Gandalf
Gandalf Wizard Hat Adult
Gandalf Wizard Hat
This authentic looking wizard hat is made from 75% polyester and 25% cotton. Hat features a large, stiff brim, small inside pocket, adjustable Velcro strap, grey lining, bendable wire inside the top of the hat. Pair it with the Grey Velvet Wizard Robe and beard and wig kit for a perfect Gandalf look.
Gandalf the Grey Hat How-To Video Tutorial
To make your own Gandalf or wizard hat, this instructional, step-by-step video takes you through the process of creating your own authentic looking hat using woolen fabric, lining, heavy fusing, and pillow stuffing. The lady in the video fully explains each step on how to make the pattern pieces and actually construct the hat. Great idea for those who like to be creative and enjoy crafting. This hat would make a great addition to a Gandalf Cosplay costume. Also makes a great "sorting hat" for Harry Potter fans.
[youtube]https://www.youtube.com/watch?v=CxKUhQnEQDg[/youtube]
Gandalf the Grey-Finer Tips Tutorial
This YouTube video shows how to do some of the very detailed work when creating a Gandalf the Grey Cosplay robe. The video narrator explains how to make box pleats on the robe, and how to use eyelets for the string ties around the neckline. She shows where the hand stitching should be done on the garment and also explains how she made an authentic looking belt and "Middle-earth man bag". The video provides some very useful information for those who are interested in creating a truly authentic Lord of the Rings /The Hobbit costume for Gandalf. A lot of research went into creating the details for this robe, and the instructor states at the beginning of the video that they began with a basic Simplicity pattern # 9887 and modified it to suit their needs.
[youtube]https://www.youtube.com/watch?v=ndHp9w8m5S0[/youtube]
Simplicity Sewing Pattern #9887
This Simplicity sewing pattern is for a variety of unisex costume hooded cape styles. Pattern is suitable for Misses, Men's, and Teen's sizes extra small, small, medium, large, and extra large. Pattern offers four different variations and comes with directions written in English, French, and Spanish. Suggested fabrics for use with this pattern include rayon canvas and linens for styles A and C, broadcloth for pattern B, and cotton gauze or rayon crepe for patterns B and D.
Simplicity Sewing Pattern 9887 Misses, Men and Teen Costumes, A (XS-S-M-L-XL)
Quilter's Grey Fabric
This fabric is sold by the yard and cut to the size of your order. Made from 100% cotton, this is a quilter's fabric that measures 108 inches wide. Length is determined by the number of yards of fabric ordered. This fabric would make a great Gandalf robe and looks similar to the fabric in the movies.
Adult Gandalf Costume
This Gandalf costume is for adult sizes and is a one size fits most. Robe is made from rotocast vinyl and can be hand washed in cold water only and line dried. Costume also includes hat, satchel, and belt.
Pin this Image to Save for Later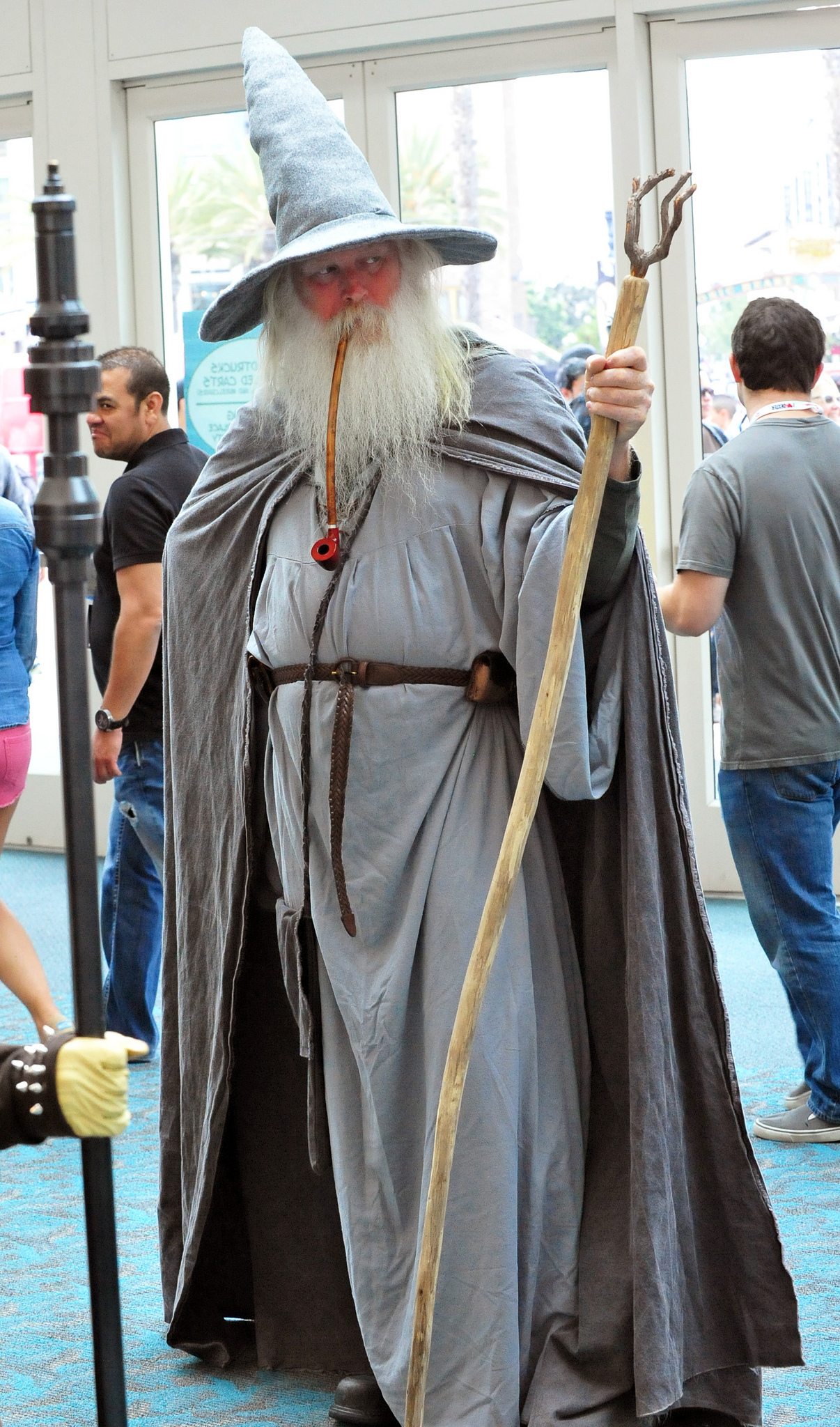 (Visited 5,266 times, 1 visits today)