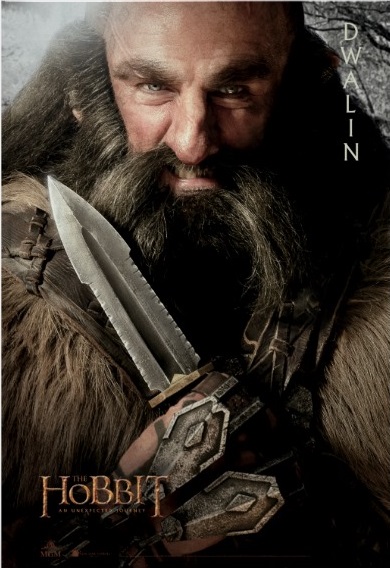 Dwalin the Dwarf is a character in the J.R.R. Tolkien books and films, The Hobbit and The Lord of the Rings. Dwalin was one of the dwarves who accompanied Gandalf and Bilbo on the mission to recapture the Lonely Mountain from the fierce dragon, Smaug. He is the brother of Balin and a tall, strong, brave and moody dwarf. Dwalin makes a great character to portray for Halloween or Cosplay fun for any fan of Tolkein's works. Here we take a look at some ready-made costume ideas as well as some ideas for creating a Dwalin the Dwarf cosplay costume on your own.
Dwalin Hair Kit Costume Accessory
One of the most important parts of any Dwalin Cosplay costume is the distinctive hair and beard. This hair kit includes the hair and beard, with the upper part of the head being a skull cap. Wig recreates Dwalin's bushy beard and trademark mustache, with two gray strands on the beard. Look just like you're starring in The Hobbit with this beard set.
&
Dwalin Costume for Kids
This costume includes the tunic with molded chest, belt, and pants. Available in sizes small, medium, and large. Does not include the wig and beard set, which is sold separately. Tunic is a dark green color with a gray layer underneath. Reaches to about knee level and sleeves reach to the elbows. Chest plate is brown and belt is silver, both have molded details. Costume comes with a short, furry cape that drapes just onto the shoulders. Combine with dark pants and rugged boots for an authentic Dwalin look.
&
The Hobbit Deluxe Dwalin Adult Costume
This costume comes in a standard adult size that fits most. Costume includes a tabard with attached jacket, belt, molded armor, and knuckle dusters. Combine with wig and beard for an authentic Dwalin look. Help reclaim the Dwarf Kingdom this Halloween or use for Cosplay. Tunic falls a few inches above the knees and has a gray under lining. Sleeves fall a few inches past the elbow. Dark green color, with brown and silver belt and brown molded chest plate. Pair with sturdy boots and dark pants for a convincing Cosplay costume.
&
The Hobbit Deluxe Dwalin Costume
This is a multi color standard size costume for adults made from 100% polyester. Costume includes shirt with pants and attached boot tops. Garment may be hand washed and laid flat to dry. Features a short fur shoulder wrap, gray under lining, and long tunic that falls several inches below the knees. Wide belt has criss cross straps and looks leather like. Boot covers look like leather with faux fur cuff at the top. Makes a great Cosplay costume for any The Hobbit or LOTR function, or serves as a great Halloween costume.
&
Homemade Dwarf Costume
This is basically a step-by-step slide show that shows how this person created a costume similar to Gimli the Dwarf. Simple substitutions in color and details could also make it swerve as a nice home crafted Dwalin the Dwarf Cosplay costume. Use this slide show to find inspiration and ideas for creating your own costume at home.
DIY Dwalin the Dwarf Cosplay Costume
Using pieces of regular clothing and fabrics, you can piece together a fairly authentic looking Dwalin costume. Here are some ideas that can be used to create the costume. You will want a gray or silver layer underneath your main tunic. This shirt (below) can be used as the underneath layer. Buy in a larger size than you would normally wear to make sure it hangs low enough and provides a bit of bulk for the costume.
Mens Baggy Long-sleeved Gloved Tunic
&
For the main tunic, an easy way to make one would be to purchase fabric from the bolt. This fabric is an olive-drab green color and could be purchased by the yard. Simply fold fabric over to create arm holes and put the garment on, trimming neckline areas to fit. Tunic will be open in front. You could leave as is, or go the extra mile and hem the piece so that it will last longer. A suitable, similar fabric could be found in any craft store like Michael's or JoAnn's, or even in fabric departments of stores like WalMart.
100% Linen Fabric – Olive Drab
&
To make Dwalin's short furry cape-style collar, use faux fur fabric purchased by the yard. Cut and drape the fabric to fit across the back and over the shoulders, securing it with Velcro closures in the front. While the faux fur may be a bit pricey, you won't need very much of it. You can also trim off two narrow pieces to use to place around the tops of your boots for the costume. Velcro into place to create a great pair of dwarf boots.
Faux Fur Monster Amber Frost Fabric
&
For Dwalin's boots, any rugged black or brown boots should work. Try to find ones that go up slightly higher on the leg is possible. Add the faux fur around the top with Velcro for a great, authentic look. Black or dark brown boots make the best choices.
Maelstrom Men's Tac Force Work Boot
&
To make Dwalin's belt, faux leather fabric in a rich brown color could be used. Make a piece to go across the waist, as well as two pieces that go in the shape of an X across the shoulders. Cut pieces to size and sew them together, as well as making hems across all raw edges of the material. Fold the material in half to make both sides look the same and to give the piece added firmness. When sewing raw edges, also run a hemline along the folded areas to eliminate puffiness and to give the piece added strength. Use Velcro to join belt in the back.
Faux Leather Buffalo Chocolate Fabric
&
Add a metal belt buckle that you can weave the fabric through. Something like this example listed will work well.
Metal Plated Buckle Antique Brass
&
Add all of these pieces with a pair of sturdy black or dark brown jeans or sturdy work pants. You will also need to wear a wig with skull cap portion and beard for an authentic look. Because of the style of Dwalin's facial and head hair, it is probably best to purchase the wig and beard kit for the best look.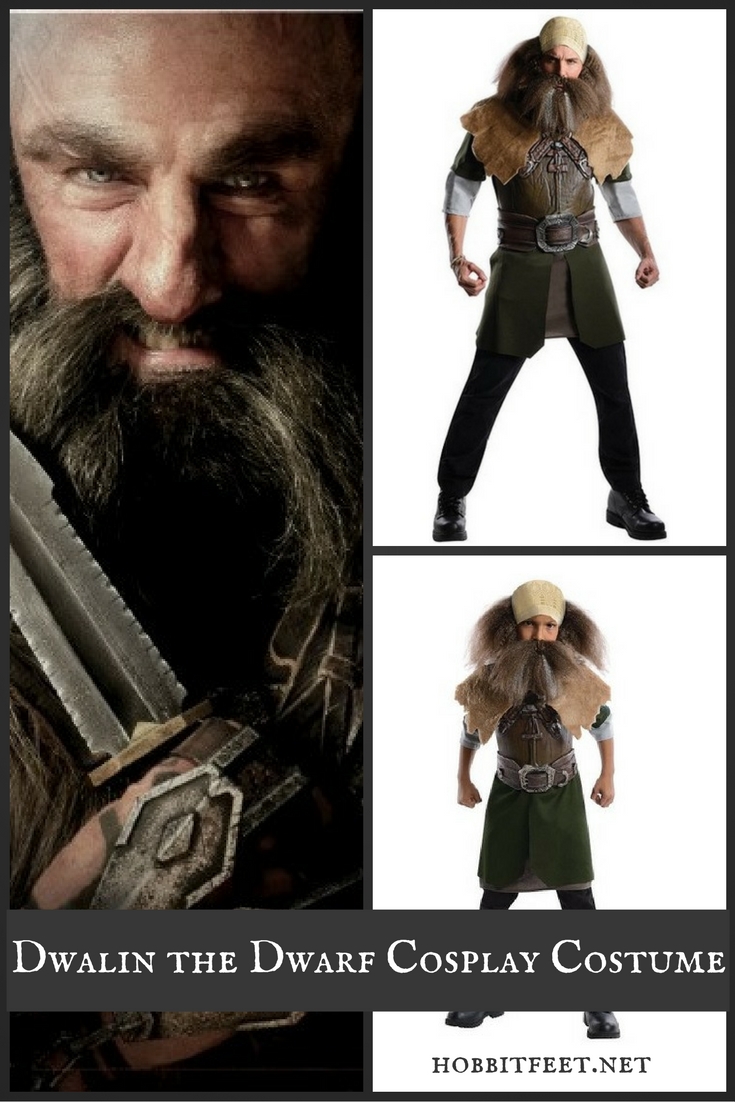 (Visited 3,931 times, 1 visits today)