Updated for 2017
Arwen Evenstar is a character from J.R.R. Tolkien's The Lord of the Rings novels and the films based upon them. Arwen is the Half-Elven daughter of Elrond and Celebrian, who eventually goes on to marry Aragorn and become the Queen of the kingdoms Gondor and Arnor, which have been reunited at the end of the war. Because there are so few female characters in the Lord of the Rings trilogy, Arwen is a favorite choice of many girls and women when it comes to portraying a LOTR character for either Halloween or Cosplay. Here we look at some great Arwen Evenstar costumes and offer suggestions on how to put together your own costume.
Deluxe Arwen Child Costume
This child's costume features a full length silvery white dress with silver trim on neck, cuffs, and hem, with bell sleeves. Simple, yet lovely. Combine with a wig (if necessary) and the lovely Arwen necklace for a complete look. Costume is one piece, but made to look as if there is an off-white undergown beneath. Available in child sizes small, medium, and large.
Deluxe Arwen White Child Costume

Arwen Costume

Arwen Child Costume

Lord of the Rings Arwen Cloak
This is a lovely white hooded cloak to go over Arwen's white gown. Comes in an adult standard size. Cloak ties at the neck and makes a great addition to the silver-white gown. Also adds a layer for warmth if worn on a chilly Halloween evening. Combined with gown, makes an authentic looking Arwen costume.
Lord of the Rings Arwen Wig
This is a one size wig that features long, wavy dark hair with center part and front sections pulled back. Hair comes down to several inches below the shoulder. Makes a great Arwen costume when combined with the silver-white dress and worn with the Arwen pendant.
Queen Arwen Costume
This is a beautiful Arwen costume made from 100% polyester fabric. This elegant full length dress is a pretty light green color, has elegant bell sleeves, and features lace pattern lines around the neck the upper part of the sleeves. Costume comes with a silver tiara covered with beads and gems.
 Queen Arwen Green

 Queen Arwen Deluxe

 Arwen Ret King

 Arwen w/Headpiece

 Arwen LOTR Deluxe

 Arwen LOTR

Deluxe Arwen Dress
This is a one size, multicolor dress made from 100% synthetic fabric. Full length dress is a deep blue color with orange neckline and elegant orange bell sleeves. Neckline and sleeves feature lovely gold accents. Combine with an Arwen wig and necklace for an authentic look.
Arwen Adult Costume
This is a one size full length white Arwen costume that gives the illusion of having a separate dress beneath it. What looks like the outer layer is a bit more silvery than white in color, and is trimmed with silver trim. The "underneath" layer is more of an off-white color and has no embellishments. Costume features elegant bell style sleeves. Pair with a wig and the Arwen pendant for a great look for Halloween or Cosplay.
Lord Of The Rings Elf Ears
These ear tips are made from vinyl and make the perfect accent for an Arwen Evenstar costume. Some customers who have purchased these ears suggest painting them to match your own skin tone for a more authentic look.
 Ear Tips

 Latex Ears

 Elf Ear Tips

 Ear Tips

 Elvish Ears

 Adult Ear Tips

Arwen Evenstar Necklace
The perfect accessory for any Arwen costume is the beautiful Evenstar necklace. Made from metal and plastic and comes in a one size option. Features a two inch tall Evenstar pendant with seven faux crystals. Comes on a 22 inch long chain with clasp. Pair with any of the lovely Arwen costume dresses for a great look.
Sewing Patterns to Make Arwen's Gowns
These patterns can be used to make all or part of Arwen's cloaks or gowns.
 Simplicity Creative Patterns 1582

 Simplicity Sewing Pattern 4940

 Butterick Patterns B4377

DIY Arwen Costume
If you'd like to create your own Arwen look, you can use a ready made dress for the foundation and take it from there. You may want to check your local thrift stores for a full length wedding, bridesmaid, or prom dress in either light green or white. Sleeveless or not doesn't matter, because you may be cutting off the sleeves to create the Arwen dress. A good example is this sleeveless prom dress to which you will be adding lace and large bell sleeves.
With some basic sewing skills, you can cut simple pieces to create the lace portion of the sleeves, which will start at the shoulder and end at the elbow. This is fairly simple, just measure the arm of the person who will wear the garment and cut a piece slightly larger, allowing an extra inch or two in width to work in around the shoulder area where the sleeve will attach to the actual dress. Also allow a bit of extra length near the elbow area so that you have enough to create a seam for the bell sleeves. Some pretty lace that matches this sample dress can be found here, as can lace to match virtually any dress you might find for your project.
Next, purchase some matching, solid colored tulle fabric to create the bell sleeves. Tulle is easily found at any fabric or craft store, or can be purchased online in the sewing section of Amazon and other websites.
A helpful pattern tutorial on how to cut a bell sleeve can be found online here. Just keep in mind when using this pattern, that your sleeve will begin at the elbow, not the shoulder, because you are adding it to the lace part of the sleeve.
These are all of the components you will need to create your Arwen costume dress. Now, add accessories like the Arwen wig, Elven ears, the Evenstar pendant necklace, and the Tiara for a complete look. Pair it all with a simple pair of silver sandals for a beautiful look.
DIY: How To Make Elven/Elf Tiara (circlet)
The crafter uses craft wire , spray paint, and embellishments to create a pretty tiara. The video tutorial has spoken instructions and a good visual example that shows the step by step process. The process is fairly simple and mostly involves bending crafting wire into the shape of the tiara. For the finishing touch, the crafter spray paints the crown and adds a charm.
[youtube]https://www.youtube.com/watch?v=NpTLd00aptE[/youtube]
More Arwen Images
All images of cosplay from flickr CC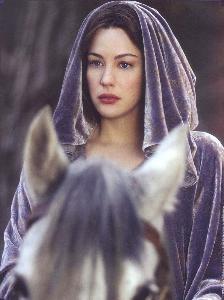 Liv Tyler as Arwen Public Domain image
(Visited 11,989 times, 1 visits today)