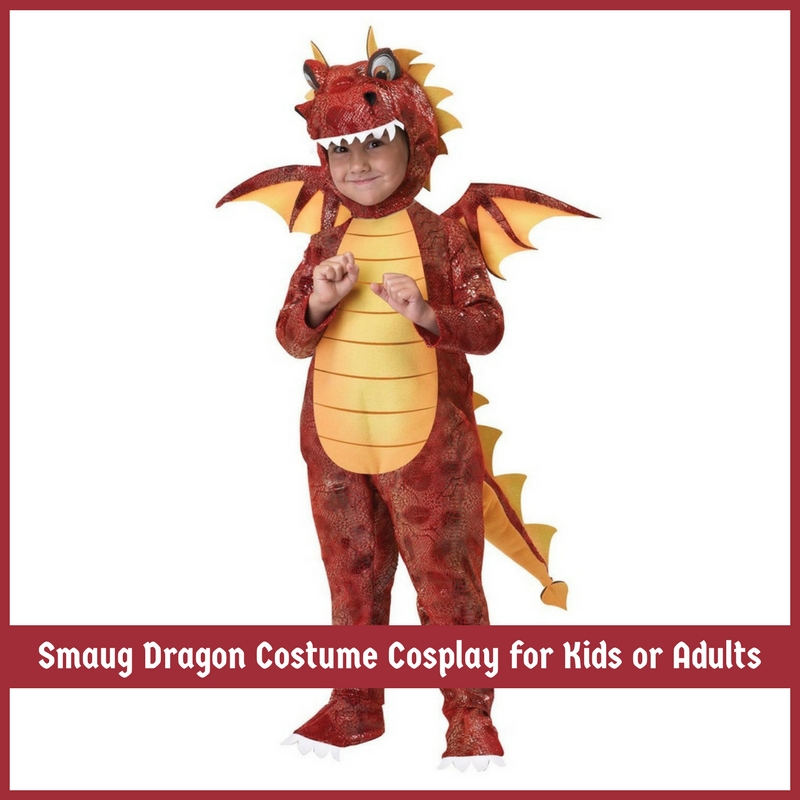 Smaug is a fictional character in J.R.R. Tolkien's The Hobbit book and in the films based off of the novel. He is a fearsome, ferocious, fire breathing dragon who lives isolated in the Lonely Mountain after taking over the Dwarf kingdom of Erebor. Smaug stole a wealth of treasure from the dwarves and rarely leaves his lair so as to guard all that he has stolen. Bilbo Baggins and Gandalf the Grey lead the dwarves on a quest to reclaim their homeland in the action packed adventure. Because of the popularity of the book and the films, it's no surprise that both adults and kids alike would choose to dress up as Smaug for Halloween and other dress up fun. Here we look at some dragon costumes for kids and adults that will help you "get your Smaug on." Most are great for dress up fun and Halloween, and others can also serve as comfortable sleepwear.
Fire Breathing Dragon Toddler Costume
Available in a size 3 to 4, and 4 to 6, this costume is made from 100% polyester. The one piece jumpsuit is a rusty brown-red color and has an attached tail and Velcro closure. Costume includes separate character hood, matching character wings, and matching shoe covers. The belly of the costume, interior of the wings, and the tail are a yellow color. Character head fits over child's head so the face is shown and child has full visibility.
Fire Breathing Dragon Toddler Costume
Ride-In Dragon Costume
This costume allows for the child to ride "inside" of the character. Features ride in body with adjustable shoulder straps. Dragon is made from soft blue 100% polyester material, with stuffed legs, body, and head. Wings are silver and can be held up by the child. An alternative to the regular type of costume that you wear like clothing, this costume gives the child the opportunity to run and play freely while he or she "operates" the dragon.
Baby's Dragon
Perfect for the tiniest Smaug portrayer, this costume comes in various sizes to fit from six months all the way to a size 6. Costume is green with printed details and scales. Jumpsuit has a vivid print designs, with attached feet, hood, and hand mitts. Made from a lightweight material, with smaller sizes having a Velcro closure for convenient diaper changing.
Kids Dragon Costume Winter Fleece Onesie Jumpsuit Hoodie Pajamas
Available in children's sizes small to XXL, this fleece hooded onesie pajama can also be worn as a comfortable costume. Available in the colors green or pink. Handy zipper in the seat makes it possible for kids to use the bathroom without having to take the entire pajamas off. Made from super soft, warm, and cozy materials. Your little dragon can play hard right up until bedtime and be ready to drift off to sleep, all without having to change!
Dragon Costume Winter Fleece Onesie
LLC Dinky Dragon
Available in sizes S(3T) and M(4T), this costume is made from 100% polyester. Lined zippered jumpsuit is blue/green/orange and has attached tail, hood with spikes and horns, detachable wings, and shoe covers. A cute and highly detailed costume that could be used to portray a not quite so scary version of Smaug for the younger Hobbit fans.
Dinky Dragon, Blue/Green/Orange
Chinese Dragon Costume
This is a red , 100% polyester jumpsuit with metallic red accents, with front zipper. Jumpsuit has yellow mane and accents, with opening for face and a plush overhead. Look ferocious like the fire breathing Smaug with this cute costume. Great for everyday dress up fun or Halloween.
Kids Red Dragon Costume
Available in sizes small, medium, and large, this is a full body plush red dragon costume. Features hood with face opening, jumpsuit with attached hand mitts, shoe covers, wings, and a tail. Made from polyester fabric.
Unisex Animal Cosplay Dragon Jumpsuit Pajama Costumes
Available in sizes ranging from small to extra large, this costume is made from comfortable flannel material. Suitable for either gender. Jumpsuit is a light green color, with an attached hood with dragon head and attached tail. Belly and tip of tail are a light yellow color. Comfortable ultra plush material will also keep the wearer warm.
Cosplay Dragon Jumpsuit Costumes
Unisex Onesie Dragon Costume for Adults
Available in sizes small through extra large. One piece jumpsuit has an attached hood and tail. Jumpsuit is purple in color with a yellow belly, horns, and spike accents. Suitable for either gender and makes for a cute and not so threatening Smaug costume. Also serves a dual purpose as a comfortable pair of pajamas to keep you warm on chilly nights. Would make a fun Halloween costume for adults.
Child Smaug Hoodie
Available in sizes extra small/small and medium/large. This is a black hooded sweatshirt with gray printed details on the chest. Hoodie has attached wings, zips in the front, and has the face of Smaug the dragon when you zip it up all the way to the top. Hole for eyes for safety and visibility. Makes a spooky costume or could just be worn as a hooded sweatshirt.
Men's The Hobbit Oversize Masterpiece Smaug Mask
This is a one size mask made from latex material. Should fit most teens and adults. Highly detailed mask features intricate details of the face of Smaug, the fierce fire breathing dragon from the Hobbit. Details make for a very authentic look, perfect for occasions such as Halloween or Cosplay. No detail has been left out, making this the perfect mask for the die hard Hobbit fan or collector.
Oversize Masterpiece Smaug Mask
Creative Education's Dragon Cape
This is a classic styled cape in a silky fluid green color made from fabric that feels soft against the skin. Comes in a child's size 5/6. Velcro closure at the neck for easy on and removal. Cape features red ears and a yellow spike on top of the head. Yellow spiked collar and yellow spikes down the back. Makes a simple costume for dress up fun or Halloween. Kids will love pretending that they are Smaug from the Hobbit.

(Visited 1,418 times, 1 visits today)