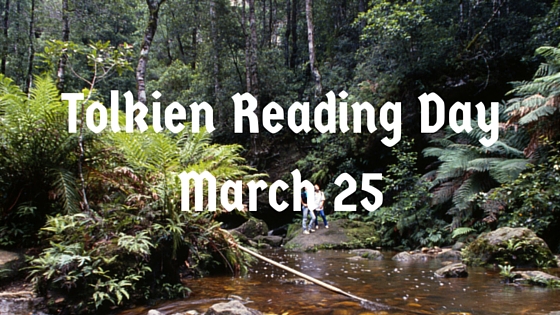 March 25th of each year is a special day for Tolkien fans, Tolkien Reading Day. This is the day that they can celebrate the works of J.R.R. Tolkien by making a point of sharing and reading their favorite passages from his novels.
This day to honor Tolkien came to be when a columnist named Sean Kirst of Syracuse, NY suggested that there should be a special day to celebrate his favorite author. Since the books held a special importance to him as he was growing up, Kirst felt that Tolkien, like many other authors, needed a day dedicated to him so that his many readers could share and enjoy their favorite parts of the books. The idea caught on and in 2003, The Tolkien Society launched the first Tolkien Reading Day on March 25.
You may ask, why was this particular date chosen? Any die-hard Tolkien fan can tell you this is because this is the date that resonates with lovers of Tolkien's works as the date of the fall of Sauron in The Lord of the Rings.
This special day not only serves as a great way for fans of Tolkien to express their interest, but also serves as a great was to bring Tolkien into educational settings of library book groups. If you are a fan, you may wonder how you too can celebrate Tolkien Reading Day. The theme for the 2016 Tolkien Reading Day is life, death, and immortality. Here we list some fun and interesting ways for you to celebrate.
&
&
Dive Deeper into Your Tolkien Knowledge
You probably know the basics when it comes to Middle Earth, Hobbits, Elves, and so forth. If you really want to spice things up and learn even more about the fantasy world created by Tolkien, how about checking out a great trivia quiz on The Lord of the Rings Fanatics website? Participants take part in answering 111 trivia questions divided among six different levels. Complete each level in order to reach the end and destroy the One Ring.
Learn a New Language
Tolkien created a new language for use by the Elves in his novels. If you are a serious Tolkien fan, take advantage of Tolkien Reading Day to hone your Elvish language skills. There is actually an online course for those who wish to learn the Elven alphabet, grammar, phonetics, and more. Visit the site Quenya 101 to learn all about this unique and fun to learn language to impress all you fellow Tolkien fan friends.
Host a Party with Friends
Tolkien Reading Day is the perfect time to get together with fellow Tolkien fans. Throw a party and ask each friend to bring their favorite Tolkien novel. Take turns discussing your favorite parts of the books while reading aloud your favorite passages to each other.
For extra fun, perhaps ask everyone to dress as their favorite character from the books and movies. Afterwards, vote on your favorite movie based off the Tolkien novels and serve some snacks and popcorn for a great movie night to wrap up your celebration.
Explore the Lesser Known Works of Tolkien
When people hear the name Tolkien, they almost automatically think of The Hobbit and The Lord of the Rings books and movies. What many may not realize is that Tolkien has a far larger collection of works including short stories, essays, poems, and other novels.
Tolkien Reading Day is the perfect time to purchase or check out a different Tolkien novel and start reading. Explore a previously unknown work called The Story of Kullervo. There is a site where readers can view the chronological bibliography of his writings so that they can find something new to read and explore.
&
&
Put on a Little Mood Music
As a reader, you have surely come across the many songs written within Tolkien's famous novels and have wondered what they might actually sound like when put to music. A website called Middle-Earth Music allows readers to become listeners as they have created lovely renditions of their interpretation of the songs for your listening pleasure. While these versions may not be totally authentic, they do offer a fun new way for readers to experience and enjoy the songs from the books they know and love so well.
Tolkien Books
The Silmarillion
The Hobbit and the Lord of the Rings (the Hobbit / the Fellowship of the Ring / the Two Towers / the
The Histories of Middle Earth, Volumes 1-5
The Children of Húrin (Pre-Lord of the Rings)
Unfinished Tales: The Lost Lore of Middle-earth
The Art of The Lord of the Rings by J.R.R. Tolkien
Tales from the Perilous Realm
Beowulf: A Translation and Commentary
Tolkien's World: A Fantasy Coloring Book
The Letters of J.R.R. Tolkien
Bilbo's Last Song
Tolkien Fantasy Tales Box Set (The Tolkien Reader/The Silmarillion/Unfinished Tales/Sir Gawain and the Green Knight)
The Languages of Tolkien's Middle-Earth: A Complete Guide to All Fourteen of the Languages Tolkien Invented
The Complete Tolkien Companion
An Atlas of Tolkien
Tolkien's Requiem: Concerning Beren and Lúthien
The Fall of Arthur
A Tolkien Journal
J.R.R. Tolkien: A Biography
&
(Visited 644 times, 1 visits today)