Thorin Oakenshield is a fictional character from J.R.R. Tolkien's 1937 fantasy novel, The Hobbit. Thorin is a haughty character and leader of a Company of Dwarves who set out on a mission to take back the Lonely Mountain from Smaug, the evil Dragon. Thorin Oakenshield is a popular character and makes a good choice for a boy's or men's Halloween or Cosplay costume. Here are some great ideas for building your own Thorin costume.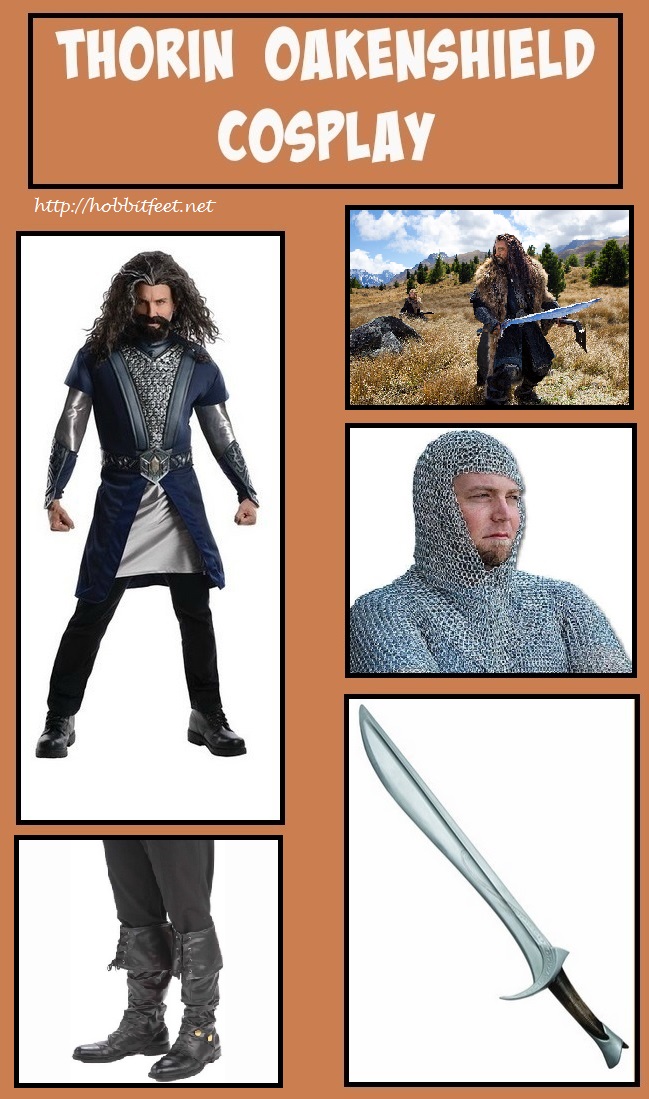 The Hobbit -Deluxe Thorin Oakenshield Costume
This is a complete child's costume that includes shirt, pants, belt, and arm guards. Comes in sizes small, medium, and large. Pants are a solid black color, while tunic is white with long, blue and white sleeves. A blue outer layer with short sleeves is over the white section of the tunic, with a silver section that looks like chain mail peeking out from the chest area. The arm guards have an intricate pattern and are black and dark blue in color. The guards fit over the arms with elastic bands. The belt has a detailed pattern in silver, and a large belt buckle in gold, green, and silver. A very authentic looking Thorin costume, especially when paired with the wig and beard set.
Deluxe Thorin Oakenshield Costume

The Hobbit Thorin Oakenshield Adventurers Suit Set
This costume is designed to fit most children between the ages of 6 through 8 years old. Includes the shirt and boot tops, and garment can be hand washed in cold water and laid flat to dry. While the shirt appears to be multi-layered, it is really a one piece made to look like a chain mail shirt and vest. Arm guards and belt and strap are printed on the fabric. Shirt contains blue, silver, and grayish colors. Boot covers are a very dark blue fabric with printed silver straps. Pair with any dark pants and dark shoes, and add a beard and wig for the perfect Halloween or dress-up costume.
Thorin Oakenshield Adventurers Suit Set

Thorin Oakenshield Beard And Wig by Elope
Beard and wig set is a one size item, made from polyester. May be hand washed if needed. Has Thorin's brown hair with streaks of gray, and brown beard and mustache combination.
Thorin Oakenshield Beard and Wig

The Hobbit Thorin Hair Kit by Rubie's Costume Co.
This is a one size wig made from 100% Polyester. Can be hand washed and may be spritzed with styling product before wearing. Contains a beard with dark, wavy black hair streaked with gray, with braids on each side and a black beard.
The Hobbit Deluxe Thorin Costume (Men's) by Rubie's Costume Co.
This Thorin costume comes in a standard adult size and is made from 100% Polyester fabric. Tunic is white underneath from the waist down, with the area covering the chest appearing to look like silver chain mail. The long sleeves are silver and blue in color, with matching "vest" fitting over the tunic. (It is not specified in product description, but this appears to be a one piece tunic made to appear to be layered.) Costume includes belt and arm guards. Complete the look by pairing with a Thorin beard and mustache set.
The Hobbit Deluxe Thorin Costume

The Hobbit Orcrist Thorin's Sword by Rubie's Costume Co.
This sword makes the perfect accessory to complete any Thorin Oakenshield Halloween or Cosplay costume. A 100% plastic, molded replica of Orcrist, Thorin's sword in the Hobbit book and movies. Silver colored sword with black and silver handle.
The Hobbit Orcrist Thorin's Sword

The Hobbit: Making Thorin's Gauntlets Tutorial by Kamakani De Dely on YouTube
For the serious Cosplay enthusiast, this is a great step by step tutorial on how to make Thorin Oakenshield's leather gauntlets. Very authentic looking work, perfect for a Cosplay costume. The first two minutes of the video is just the guy talking, so fast forward to about the two minute mark for the actual tutorial to begin. He explains how to sketch and cut the leather, and how to dye it to make a realistic looking gauntlet.
[youtube]https://www.youtube.com/watch?v=gQqkODR7FSg[/youtube]
Make Your Own Thorin Oakenshield Costume
You can make your own Thorin costume by piecing together a few items. Begin with a long, white, long sleeved shirt, similar to this example.
Premium Fitted Long-Sleeve Crew

Try buying a slightly larger size so the shirt is a little longer than you'd normally wear it. Over the shirt, this battle ready armor chain mail coif would look great, just pull back the "hood" section, because you only want to expose the upper chest and part of the sleeve area.
Battle Ready Armor Chain Mail Coif

Use an oversized dark blue tee shirt to create a vest, by cutting it down the middle in the front, and shaping the neck area into a "V" by cutting off a small area on each side of the neck (skip this step if your shirt is already a V neck). Hem the areas that were cut so that the fabric will not fray.
Men's Big-Tall Short Sleeve Crew

Make your pieces comes together and look authentic by adding craft foam pieces to them to create the arm guards, belt, and trim around the blue vest. Attach the foam by gluing or sewing onto the tee shirt fabric.
Foam Sheets 12-Inch by 18-Inch

Fabric and craft stores may offer the craft foam in larger pieces than the usual squares to make your project move along more quickly. Refer to the photo of the pre-made Thorin costume for inspiration in making your own.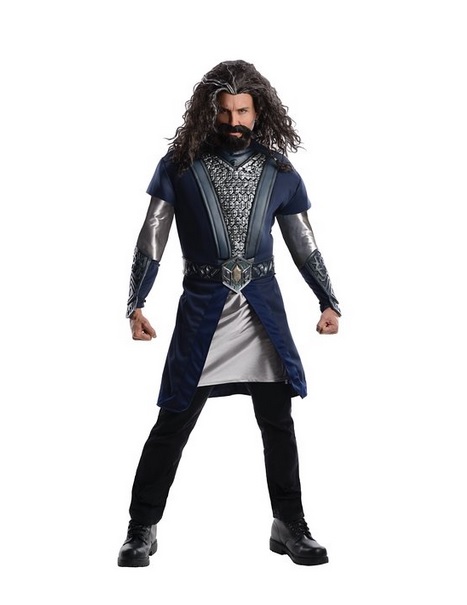 Any dark black jeans or pants will work with this costume, along with dark black boots. Pair it with a Thorin beard and mustache set for a complete look.
Men's Deluxe Adult Pirate Boot Covers With Studs by Forum Novelties
Wear these boot covers with any pair of black shoes for an authentic boot look. Although these are supposed to be pirate style boots, they would still work nicely with any Thorin costume. These are one size fits most, made from 100% polyester. Boot covers have an elastic strap which goes under your shoes to help keep them in place. Retro style with fold over lacing. Two gold colored studs on outer side of each boot. These boot covers are the perfect compliment to any pre-made or homemade Thorin costume.
Men's Pirate Boot Covers with Studs

(Visited 1,453 times, 1 visits today)